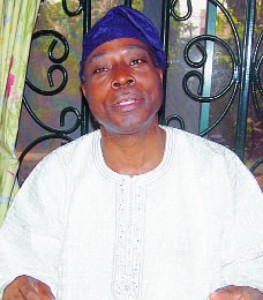 Dr Olusegun Abraham, an All Progressives Congress (APC) aspirant for the Ondo gubernatorial race, has pledged to take the state to its desired height.
Abraham said this while speaking to newsmen after he returned his nomination form to the APC national secretariat on Monday in Abuja.
According to him, when the state attains that status, no family will be dominant over the other, but will live with equal rights and prosperity.
"The three major problems in Ondo state are economy, economy and economy.
"When you remove hunger from the human problem, you have solved 50 percent of the problem. We will tackle food security.
"My mission is not a political ambition. It is a Godly mission to transform Ondo from a third-World state to a first-World state.
"This will be done in a manner that our state will not only be prosperous but also led with compassion, integrity and love.
"This also means that the inequality will reduce and no one or family will dominate another, be it economically, politically and socially."
The aspirant said the state had lots of opportunities that had not been exploited and if elected he would not retrench in spite of the recession.
"In Ondo state how many small scale industries do we have? What is our production capacity? What is the level of our technological development?
"What are the resources that we have exploited? We have granite, vegetables, coconut, kolanut, palm oil, bitumen and so many others, and we need human beings to do this.
"How can we be talking of retrenchment when we can develop our human capacity?
"Human capacity can be built and made to generate income that will make the state stand out," he said.
Another aspirant, Mr. Tunde Abayomi, said he was in the Ondo governorship race because of the pitiful state of Nigeria which reflects heavily on his state.
He said as a radical lawyer, who had been detained thrice since 1980 in the struggle for human rights, he didn't mind if he does not win the election.
He said he would be more fulfilled if the electorate were allowed to make their choice and not have a candidate they didn't want foisted on them.
"The first thing is that I heard that some leaders have endorsed a certain candidate; the rumour is ongoing.
"I was at the forefront against that kind of endorsement because it takes away the fundamental rights of the people to constitute government over themselves.
"It is unconstitutional and violation of fundamental human rights. I want to state here that endorsement will not be accepted.
"I want to emphasise that no endorsement will be accepted by the people of Ondo state. It will not be accepted. You cannot have a government constituted by leaders instead of the people.
"It is wrong and a violation, it will not be accepted and we will campaign against it. We hope the media will help us in pushing the idea of the people not supporting endorsements."
Abayomi, a barrister at law for many decades, said he had not attained the height Senior Advocate of Nigeria (SAN) because he believed the title is oppressive.
"I don't believe in that. I have been a serious lawyer in Nigeria for years and I'm still a serious lawyer, but I don't believe in SAN."
The APC primary comes up on Aug. 27 ahead of the state election scheduled for Nov. 26.