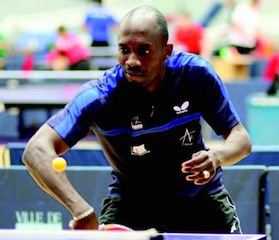 Olabanji Oladapo, Executive Secretary of African Table Tennis Federation (ATTF), says Saturday's elimination of Africa's greatest table tennis player Segun Toriola from the Rio Olympics was too early and saddening.
Oladapo, who was one of the pillars of support to the player who was making a record seventh appearance at the Olympics, however still praised the legend for his effort.
Toriola was eliminated in the second round of the men's singles event at the ongoing Olympic Games.
"In spite of the exit, he still made his record seventh appearance at the Olympics the world's greatest sporting spectacle.
"How I wish he lasted a little longer in the competition. But, all the same, I wish him well," Oladapo, a former Secretary-General of Nigeria Olympic Committee (NOC), said.
In the Men's Singles Round One, Toriola battled from a set down to win 4-2 against a better ranked Dmitrij Prokopcov of the Czech Republic.
The result sheet read 8-11, 11-6, 11-8, 9-11, 11-8, 11-8 in favour of the most capped African Olympian who played with utmost confidence against a big opponent.
"I've played against him in the French League three times. I've lost every time. I felt confident before the match. I played without fears.
"My first attack was strong and he made mistakes. The main problem for me was that I made mistakes when playing short."
However, in Round Two of the competition, Toriola was eliminated after a 2-4 loss to Japan's Koki Niwa, who was ranked 22 in the world.
After winning 11-9, he lost 5-11, 7-11, and then won 11-4 to draw level at 2-2.
He then lost 6-11, 1-11 to end an era which began at the 1992 Barcelona Games.
"Toriola represented Nigeria and Africa well in all his previous outings. He was a fantastic player, and he was a player of no mean repute,'' Oladapo told NAN in Rio de Janeiro.
"I am already missing him. I miss his hard work, his level-headedness, an attribute that has made Toriola a special breed of player, who will for a long time remain an inspiration to his younger folks.
"I feel certain that he will be available to become a coach — a position that can offer him a platform to further groom many more youngsters expected to toe his path to success."
In a tribute to the 41-year-old, the International Table Tennis Federation (ITTF) said in a statement that they plan to organise a ceremony in Rio to honour the Nigerian.
The world table tennis ruling body said, in spite of his exit from the Rio Olympics, Toriola deserves an honour for his record seventh Olympic appearance in the event.
It said it was more important because Toriola, who was ranked 120th in the world, was the first African to achieve such a record.
Toriola was born on Sept. 18, 1974, in Ilorin, Kwara and he is the youngest of nine brothers.