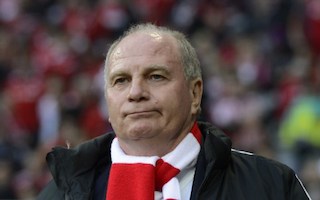 Uli Hoeness will run in Bayern Munich's presidency elections in November, the club has announced.
64-year-old Hoeness was previously Bayern president between 2009 and 2014 but left the role in March 2014 when he was convicted of evading millions of euros in tax through an undeclared Swiss bank account.
According to Deutsche well, a press statement released by Bayern Munich on Monday said that Hoeness had decided to run for president of the club when the next election is held during November's annual general meeting.
It also said that following discussions with Hoeness, the club's current president, Karl Hopfner, had agreed not to run for another term. This would appear to make Hoeness' election to the post a mere formality.
The move doesn't come as a complete surprise as there had been much speculation about a possible comeback after Hoeness was released from prison back in February 2016, after having served 637 days – exactly half of his three-and-a-half-year sentence for tax evasion.
A Munich regional court handed down the sentence in March 2014 after finding Hoeness guilty of withholding 28.5 million euros ($31.5 million) in taxes due to the German state.
The former striker subsequently stepped down as Bayern's president, a post that he had held for the previous five years.
Hoeness has admitted to hiding much of his wealth for years in secret bank accounts, while also playing the stock and currency markets.
Hoeness, who before becoming president spent decades as Bayern's general manager, is regarded as the key figure responsible for building up the club into an international brand after his own playing career was cut short through injury at the tender age of 27.