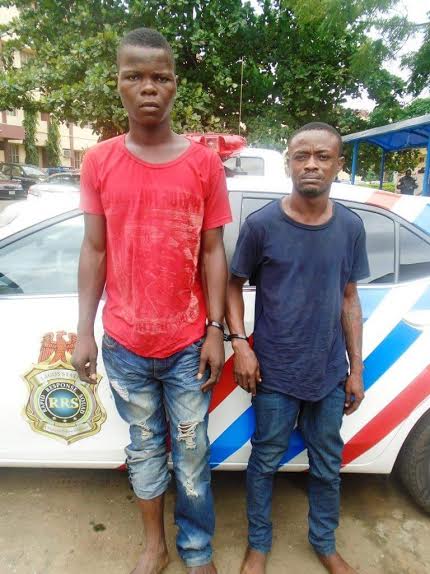 Kazeem Ugbodaga
A twenty-year old man arrested by the operatives of the Rapid Response Squad (RRS) for allegedly stealing a mobile phone, has said that a festering sore in his right leg forced him into the criminal act.
The suspect, Sunday Vincent, was apprehended by policemen after the suspect and others now at large, forcefully snatched a mobile phone from his victim, a cab driver,( name withheld) at Ojota Motor Park, Lagos, Southwest Nigeria on Monday.
The victim stated that the suspect and his gang members beckoned at him to stop along the road.
"They pretended as if they wanted to board the cab. All of a sudden, they asked me to pull over that they were no longer going. As I parked the car, my mind told me to check my phone where I kept it, but I didn't see the phone again. Then I shouted for help, which attracted the RRS operatives patrolling around the scene to come closer. As they sighted the policemen approaching, they all took to their heels. Immediately, the police ran after them and caught the suspect while others managed to escape", the victim explained.
On his arrival at the RRS's headquarters, the suspect confessed that he was forced to commit the crime because he was desperately looking for money to cure his three-year old sore in his right leg.
According to him, "I was injured about three years ago when I was a bus conductor. Since that time, I had been nursing the sour. I had spent all my life savings on it. When helps were no longer forthcoming from anywhere, I deliberately committed the offence because I must cater for my well-being and continue to treat the sore.
"Although, after I was caught, I realised that I had committed offence against God and humanity. If I had known, I would have chosen another means to look for money rather than taking to stealing."
The arrested suspect told the investigator that his receiver, Samuel Ajekigbe, was his benefactor who accommodated him when he had no place to live.
Upon confessing this, the policemen immediately picked-up the receiver at his residence at 38, Oyinbo Orunmila, Unity Estate in Ojodu.
Ajekigbe noted that the suspect only told him he saw the phones on the ground on his way home.
"I met the suspect about five years ago. He was my neighbour at Isheri-Olofin. After I packed out of the house, we lost contact. All of a sudden he just showed up at my new resident at Unity Estate seeking for accommodation. I took pity on him to accommodate him under my roof. But to my surprise, I never knew he was stealing those phones. He only told me he found them on the ground on his way home. Then, I decided to help him sell them for N8, 000. And out of that money, he gave me just N2, 000", he added.
The Lagos State Police Public Relations Officer (PPRO), Superintendent of Police, SP Dolapo Badmus, noted that investigation was ongoing to arrest the fleeing members of the syndicate.
The two suspects have been transferred to Lagos State Task Force on Environment for prosecution.