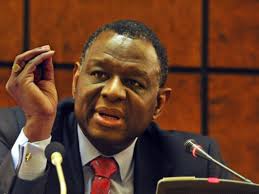 Prof. Babatunde Osotimehin, the Executive Director, UN Population Fund (UNFPA), says a Husbands' School will be introduced in Nigeria to boost access to family planning and other reproductive health services.
The executive director made this known during an interactive session with the media in Abuja on Wednesday.
Osotimehin said he is in Nigeria to work with the Federal Government through its various agencies looking at human development through the intervention of family planning.
"I am talking about human development in the broad sense because most people restrict family planning to the context of saving the mother's life.
"Saving the mother's life component of family planning is also important, but family planning goes far beyond saving mother's life," he said.
He explained the concept of the husbands' school, which started in Niger Republic, was now replicated in many parts of Africa.
He said a mentor would talk to the men over a certain period of time and talk more about the welfare of women and adolescent girls.
"We have later observed that the women started going to antenatal clinics, women have safe deliveries at centres; we also found that child survival also increase.
"We also found that many women take their children to hospitals and centres where they get proper advice on immunisation, malaria infections, diarrhoea diseases and other child survival interventions.
"Our indicators show a significant increase in the uptake of family planning services,'' he said.
Osotimehin said the men were happy because they realised that the lecture they received had led to the reduction of infant and maternal mortality.
He said the organisation would replicate the school in other African countries, stressing that it is something we do under the tree in a village.
According to him, there is a template which UNFPA Nigeria can adopt and use.
He reiterated the commitment of the agency to engage men and boys to ensure that they understand their role in terms of the welfare and dignity of women girls.
"UNFPA will work with the government to ensure that we raise this considerably and make sure Nigerians understands the centrality of family planning as a human development intervention."
He said one of the challenges before Nigeria and Africans was how to utilise "our young people to achieve demographic dividends''.
"This target population is not getting what they required to be able to harness their potentials and be part of the economic and social development of their country.
"UNFPA is working with the various governments including Nigeria to provide required support and investment which will ensure that the youthful population of Africa can be harness to work for the communities," said the UNFPA chief.