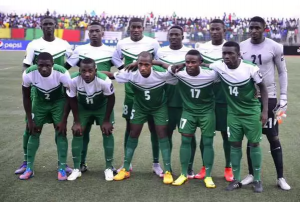 To avert the rumoured boycott by the Dream Team IV of their quarter-final match against Denmark, officials of the sports ministry are now making frantic efforts to pay their allowances.
An authentic source told the News Agency of Nigeria (NAN) in Rio de Janeiro that top officials of the sports ministry had been running around to settle the members of the team.
NAN learnt that they received a part payment covering 11 days when it had been decided that all athletes should be paid for 21 days.
Although no official is willing to confirm the rumoured plan to boycott the match by the team, close sources say the concerned officials are panicking.
A source said some senior officials would soon head to the team's camp to settle the outstanding allowances before things got out of hand.
The team has been dogged by problems even before travelling to Atlanta, U.S. for a training tour before they were stranded over lack of funds.
NAN also learnt that they were bailed out by a philanthropist who provided funds.
The team arrived in Manaus about three hours to their first match against Japan, which they won 5-4.

Load more