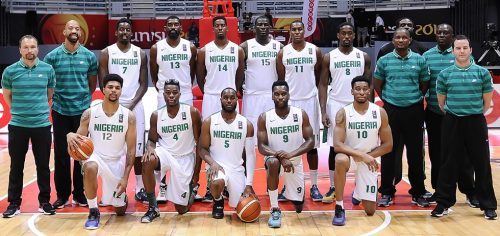 Nigeria's D'Tigers lost 87-96 to Spain on Thursday to further narrow their chances of squeezing through into the quarter-finals of Men's Basketball Event at the Rio Olympics.
The Nigerian side's last-eight qualification chances at the Games had always looked an uphill task from the onset, but injuries and sub par form have worsened the situation.
The team at was in its opening game against Argentina was hit by the absence of inspiration player Olaseni Lawal who got injured.
On Thursday at the Carioca Arena I, D'Tigers needed to win to strengthen hopes of finishing fourth, after the opening losses to group leaders Argentina and later to Lithuania.
But another inconsistent performance which saw them winning the second and third quarters, to lead by a point going into the final quarter, still ended in another disappointing loss.
Chamberlain Oguchi's game total haul of 24 points, four assists and three rebounds, the game's overall best, was not just enough to lift D'Tigers.
It was however a performance which gave Spain, silver-medalists at the last two Olympics, an escape and boosted their chances of a top-four finish and a place in the quarter-finals.
Spain jumped out to an early 16-point lead in the bizarre setting of an empty Carioca Arena 1 as Federal Police and the Brazilian Army carried out a controlled explosion.
This was after the discovery of a backpack that had been left near a trash can in a bathroom.
The Spaniards appeared to be cruising, after a 25-11 first quarter win, but then Nigeria had a huge turnaround and, thanks in large part to Oguchi's three-point shooting.
Nigeria won the second quarter 30-18 and the third 25-22, for D'Tigers to take the lead by a point late in the last minute of the third quarter.
Spain had hurt themselves when Pau Gasol argued with a referee about a foul and drew a technical, thus putting Nigeria into the bonus.
Ekene Ibekwe sank two free-throws before Josh Akognon made the technical free-throw, and Nigeria then took their foot off the throttle.
D'Tigers failed to cash in on this game's turning point with Spain in big trouble and Gasol on the bench after picking up his technical.
But Juan-Carlos Navarro started the fourth quarter with a three-pointer — one of his three on the night — before Willie Hernangomez threw down a dunk.
The Europeans never trailed again after this, even though Nigeria did twice pull to within a point on Oguchi three-pointers, but with Spain having an answer each time.
Spain took the lead at the start of the fourth quarter and held on for the victory after winning the quarter 31-21.
But Spain were clearly better in terms of character and composure, as they were 21-of-26 at the free-throw line while Nigeria were 16-of-21.
D'Tigers also failed to lay to rest the ghosts of their earlier losses as they were, as a team, Nigeria 13-of-35 from the three-point range.
However, while Oguchi was on the losing side, he still stood out as he performed in heroic fashion with a blistering display from long range.
The AfroBasket 2015 Most Valuable Player (MVP) drilled 7-of-12 three-pointers as part of a game-high 24 points.
D'Tigers now need to beat Croatia on Saturday and hosts Brazil on Monday for a realistic chance of progressing to the knockout stage.
They have to finish among the top four to qualify for Wednesday's quarter-finals.