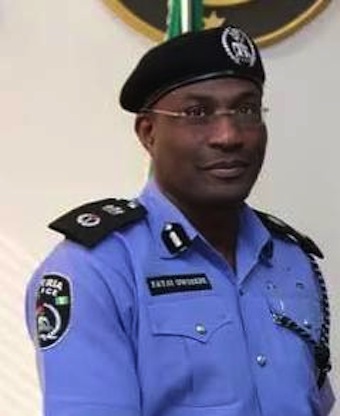 Paul Iyoghojie
The Police at Ikoyi, Lagos southwest Nigeria have arrested a security guard, John Ameh, for allegedly inviting a six-man robbery gang to rob his employers, Mr and Mrs Lanre Oduntan and Ebunoluwa Adeola of properties worth N50m at their 18C Lugard Avenue, Ikoyi residence.
Also arrested along with the security guard were Friday Eze, a resident of Adealu Street, Iyana-Ipaja, Lagos alleged to be the ring leader and Femi Michael who resides under the Apapa bridge.
Others include Emmanuel Omojola, Daniel Thomas, Raphael Ejuwa and Stanley Ichofu, a resident of 37 Baale Street, Ajegunle who drove the suspects to the house in his Volkswagen commuter bus with registration number LND 995 XT.
Items stolen, according to the police, include a box of jewellery valued at N20m, 18 different types of handsets, four Iphones, three Blackberry phones, gold wristwatches valued at N10m, three bangles valued at N3m and two computers valued at N600,000.
Police investigation revealed that the suspects locked the victims inside a room and wardrobe before they robbed them.
Police alleged that nemesis caught up with the suspects when the DPO in charge of Ikoyi Division, SP Tijani Mustapha received a distress call about the robbery and led his men to the scene.
On citing the police, the suspects sped off in their vehicle, but the DPO and his men pursued and arrested them on Awolowo Road, Ikoyi, Lagos.
During interrogation, the security guard allegedly confessed to the crime.
"I met Eze at a joint in Ikoyi and he approached me to allow him and his gang rob my employers with a promise to give me enough money to start a new life.
"After he and his gang held a meeting with me for two days at Falomo under the bridge, I agreed to allow them rob my employers."
On the day of the incident, the robbers came around 3am and I opened the gate for them to enter.
"But I was suprised that Eze led the Police to arrest me despite the fact that I was trying to help them.
"I am appealing to my employers to forgive me because they were nice and took good care of me," Ameh told journalists at the Lagos State Police Command where he and others were paraded on Wednesday.
In his own confession, Eze said: "I have been robbing residents of Ikoyi of their properties for long with my gang, but I promised to repent now if I am released."
Following the incident, residents of Ikoyi have commended SP Tijani Mustapha for providing maximum security for them.
They also praised the Lagos State Commissioner of Police, Mr Fatai Owoseni for posting Mustapha to Ikoyi Police Division.
The Police said the suspects will be charged to court after investigation.