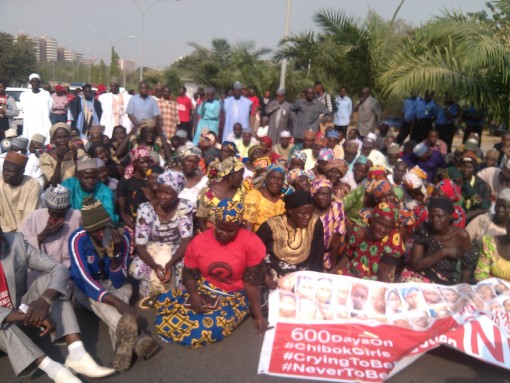 Parents of the abducted schoolgirls from Chibok have called on the United States, United Kingdom, France and other countries to assist in rescuing the girls who have been in Boko Haram captivity for more than two years.
The Chibok parents made the urgent plea after confirming that the girls in the new Boko Haram video released this morning are the Chibok schoolgirls.
The group campaigning for the rescue of the girls Bringbackourgirls (BBOG) confirmed in a statement on Sunday that Allen Manaseh, the spokesman of Chibok Area Development Association in Abuja, identified a girl who spoke in the video as Dorcas Yakubu, "whose mother Esther and husband live in Abuja, and are both present here with us."
"In addition, the recognition of several of the girls leaves no room for doubt that these are our girls," it said.
The movement called on the United States, the United Kingdom, France and other countries to assist in rescuing the girls.
The group vowed to march to the presidential villa in Abuja to demand answers from the government on why the kidnapped schoolgirls have been in captivity despite the promise of President Muhammadu Buhari to rescue them.
"Since we last met with the president in January, we have continued to call on him to be responsive to the needs of our Chibok parents, our movement, and the global community for timely updates on the rescue operation. In the aftermath of an earlier video, we repeatedly called for the government to treat the information as the missing piece of credible intelligence it was seeking. Not even the return of Amina Ali, a Chibok girl, inspired the sort of response we demanded," it said.
"After listening to the call of Dorcas Yakubu, we demand an immediate, transparent, action and results-oriented response plan by the government. We state categorically that the excuse of a split within the terrorists' ranks or a period of validation of the authenticity of their claims will not suffice this time. We shall press these demands with a march to the villa in the next few days.
"Nothing short of the Nigerian state being in contact with the parents, confirming identities of our girls, providing psychosocial support where necessary, and most importantly, articulating an action plan will be acceptable.
"Today, 28 months since the abduction, we call on the governments of the United States, United Kingdom, Canada, France, China, Australia, Israel, agencies like the United Nations and African Union, and all who previously expressed intentions to support the rescue efforts, to reengage and adopt a strategic rescue position. As global citizens, this is the least our Chibok girls deserve."