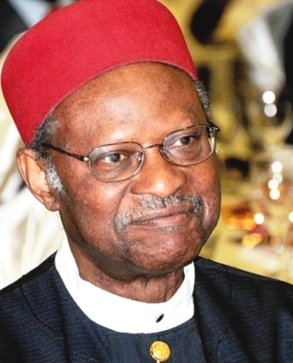 Former Nigeria's Secretary General of the Commonwealth, Chief Emeka Anyaoku says the National Conference convened by former President Goodluck Jonathan in 2014 is certainly not the answer to the nation's problems.
Anyaoku, who spoke at the 2016 United Nations International Youth Day, held at University of Lagos, Southwest Nigeria on Saturday, also said there was the urgent need for President Muhammadu Buhari to consider regionalizing the country into the current six geo-political zones for national and economic development.
"The 2014 National Conference is not the answer to the restructuring that Nigeria needs," Anyaoku said.
Anyaoku charged the youths to mobilize for the restructuring of the country.
"You should mobilize and channel some of your youthful enthusiasm into clamoring for a restructuring of the country's governance architecture. The restructuring that I am advocating for proposes no threat to Nigeria's unity.
"On the contrary, it is the continuation of the ongoing agitation in different parts of the country which is encouraged by the present governing structure that will most probably lead to the undoing of Nigeria's unity," Vanguard quoted Anyaoku as saying.
The former Secretary General, however, said some of the recommendations of the conference, such as state police and physical arrangements should be adopted.
According to Anyaoku, the proposals that the conference should adopt 54 states completely negated the idea of a vibrant federalism in a country with the history of ethnically and religiously diversity as Nigeria.
He said he had maintained since 2005 on the basis of his 10 years experience with governance in over 50 countries of the Commonwealth, that Nigeria could not attain political stability and its desire for national and social-economic development unless it restructured its existing governance architecture.
Source: Vanguard