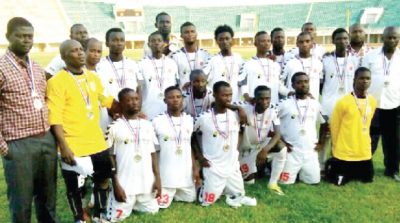 The Secretary-General, Nigeria Deaf Sports Federation (NDSF), Lukman Agbabiaka, on Monday, announced that Imo State would host the 5th National Deaf Football Championship.
Agbabiaka in Abuja said that the championship was slated for Nov. 1 to Nov. 12 at the Dan Anyiam Stadium Sports Complex, Owerri.
"This is one of our most important events for the year.
"A total of 15 states will participate in the event. Each team must obey the rules of the game and necessary punishment will be apportioned to any team that will disregard the rules.
"We want this year's edition to be more entertaining," he said.
Agbabiaka said that the federation had not organised any major event since the beginning of the year due to lack of funds.
"We have a lot of programmes lined up for this year but we could not organise any because of inadequate funds.
"This is why we could not participate in the 3rd World Deaf Volleyball Championship in July in Washington DC," he said.
He added that the federation would organise some programmes in the remaining part of the year if it received funds.