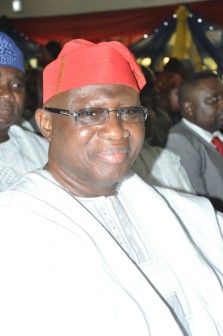 The Lagos State Government has charged the Sole Administrators of the 20 Local Governments and 37 Local Council Development Areas, LCDAS in the state to embrace cashless revenue collection through the use of information technology.
The government said embracing cashless revenue collection would prevent revenue leakages in their various councils.
The Commissioner for Local Government and Community Affairs, Muslim Folami made this known at a 3-day workshop, with the Theme: "Impact of Cashless and deployment of Information Technology System and Improvement on Internally Generated Revenue," organized by the Ministry for the newly appointed Sole Administrators and Heads of Accounts and Finance at the held at Orchid Hotel, Lekki recently.
Folami said the theme of the workshop was very apt and relevant as all hands must be on deck to improve on the Internally Generated Revenue, IGR, of the councils, stressing that the training was about acquisition of skills, knowledge and attitude.
"Capacity building of the newly appointed Sole Administrators is imperative and cannot be over-emphasized. The workshop will enable the sole administrators and all heads of accounts and finance to have better understanding of the cashless policy and the operation of the system.
He reiterated that the workshop would create easy platform for rate payers to make payment electronically and usage of POS for all transactions within the Local Government Councils across the State.
Folami urged them to pay full attention in order to gain all necessary knowledge, understanding and exposure that would equip them for the challenges ahead.
Permanent Secretary, Ministry of Local Government and Community Affairs, Mr. Jafar Sanuth implored all Heads of Accounts and Finance to sensitize all revenue collectors at the various councils on how to improve effectively on their operations in order to eliminate all forms of revenue leakages.
He advised them to ensure that they encourage all the rate payers in their respective councils to make use of e-payment rather than paying cash for their transactions.