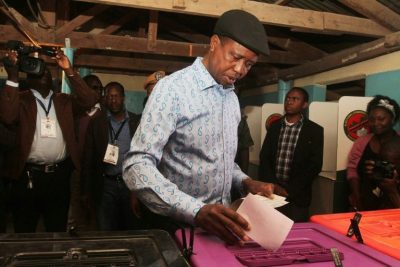 Zambia's incumbent President Edgar Lungu was on Monday declared the winner of a closely-fought election in the southern African country, a victory that was immediately challenged by his main rival.
Election commission chief Esau Chulu announced that Lungu was "duly elected" after releasing the final results from Thursday's election which put the president ahead of his main rival Hakainde Hichilema by around 200,000 votes.
"We are going to take up this matter legally," Jack Mwiimbu, legal specialist for the United Party for National Development (UPND), told reporters.
"We have overwhelming evidence of manipulations in the figures."
But PF secretary general Davis Chama, who popped several champagne bottles at Mulungushi Conference Centre where the results were announced, laughed off allegations that the vote was rigged.
"Those are cry babies who always complain each time there is an election. We have taught them a lesson and this is the end of the UPND," said Chama.
Lungu polled over 1.86 million votes against Hichilema's 1.66 million, according to results released four days after the vote.
Hichilema had on Sunday charged that unexplained delays in releasing the results were a clear sign of fraud to produce a win for Lungu's Patriotic Front (PF).
"Clearly this is rigging an election, with the collusion of managers at the Electoral Commission of Zambia or commissioners," said the wealthy businessman, who had made his fifth bid for the presidency.
The United National Independence Party (UNIP) which was set up by Zambia's founding president Kenneth Kaunda also said it would challenge the results.
"As UNIP, we are sad that there is no longer democracy in our country," party secrery general Alfred Banda said.
UNIP, which is now led by Kaunda's son Tilyenji, performed dismally, taking position seven out of the nine parties that were in the race.
The electoral commission had initially said the results would be announced within 48 hours of the close of voting.
Copper-rich Zambia is usually known for its relative stability, but the run-up to the vote was marked by weeks of clashes between supporters of the rival parties which saw at least three people killed.
Election day, which saw a total of nine candidates run for president, was peaceful, with Zambian officials repeatedly issuing calls for calm to try to avoid a violent reaction to the results.
Zambia's electorate had also cast ballots in parliamentary and municipal elections as well as in a constitutional referendum.
The PF had blamed Hichilema's United Party for National Development (UPND) for the delays, saying it had raised numerous complaints with the electoral commission.
Lungu has been in office for just 19 months after taking power last year when he beat Hichilema by less than 28,000 votes in a snap election following the death in office of president Michael Sata.
He has been re-elected for a full five-year term.
Zambia, a British colony until 1964, recorded GDP growth of 3.6 percent last year — its slowest rate since 1998.
The falling price of copper, the country's key export, has badly damaged the economy with thousands of jobs lost in mining and inflation soaring to over 20 percent.