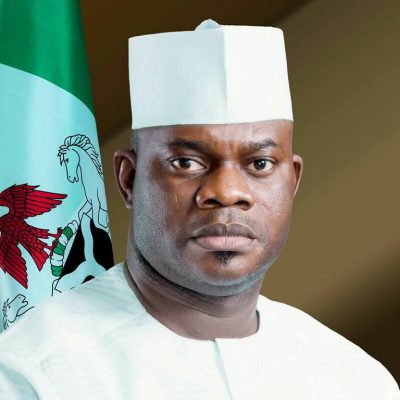 Nigeria's President, Muhammadu Buhari and the Economic and Financial Crime Commission, EFCC, have received a petition alleging how the Kogi State Governor, Yahaya Bello looted the state's treasury of the sum of N11 billion.
The petition sent to the EFCC and copied the president and the vice president, Prof. Yemi Osibanjo by the Egalitarian Mission for Africa, EMA, also named Edward Onoja, Chief of Staff to the Governor of Kogi State; Commissioner for Works and Finance; Permanent Secretary, Government House, Permanent Secretary, Ministry of Works, Permanent Secretary, Ministry of Finance, Permanent Secretary, Board of Internal Revenue, Accountant-General, Director-General, Bureau for Public Procurement, Chairman, Board of Internal Revenue, Kogi State and some business outfits, as conspirators.
The petition was signed by EMA's Country Director, Nigeria, Idris Usman and the Legal Adviser, Olutosin Ojaomo and dated 12 August, 2016.
The petition alleged the award of bogus contract for the renovation of 17 units of mostly three bedroom bungalows for a whooping sum of N 1.6 billion awarded to MAJ Global Construction Company Ltd. without tender, contrary to the Public Procurement by the Kogi State Governor.
A breakdown of the projects showed that N500,000 was meant for preliminaries, N56.831 million for renovation of Personal Assistance residence; N55.393 million for Permanent Secretary residence; N85.553 million for PPS residence, N54.171 million for ADC residence, Guest House (Aliyu) residence, N64 million and 64.67 million for Accountant General's residence.
Others are: Deputy Governor's Protocol residence, N53.324 million; C.S.O residence N52.916 million; C.P residence, N 50.557 million; SSG residence, N 52.321 million; Imam's Residence N47.527 million; 6 units office building, N 857 million; four units Residential Building N669.645 million and consultancy fees, N40 million, bringing the cumulative total to N1.566 billion.
"We strongly believe that the so called phoney renovation contract was an avenue to steal and launder funds from the commonwealth of Kogi people," the petition said.
In the petition, EMA alleged that the Bello's government awarded bogus contract for the construction of AGASA-Ukpogoro Road to AG Vision Construction Nig. Ltd of which N912. 6 million was hurriedly paid in a day without physical mobilisation to site till date.
It also alleged suspicious money laundering of the sum of N87. 5 million and N91.5 million through CGC Construction Company under the guise of payment of contract sum on 22nd June, 2016 and 1st August, 2016 respectively.
The group alleged further of suspicious money laundering of N103.55 million through Auwaliya Global Resources Ltd of the following amount of monies from the same bank and on the same day; N37.694 million, N23.925 million, N36. 249 million, N1.391 million, N2.191 million and N2.107 million.
In the petition, there is also the "suspicious money laundering of the sum of N498, 237, 920. 00 through Westwood Motors Ltd for a spurious award of contract for vehicles that were not purchased. Curiously, the payments were made same day from the same bank as follows; N31, 346, 380. 80; N31, 346, 380. 80; N23, 509, 785. 60; N38, 306,876. 80; N23, 509, 785. 60; N38, 306,876. 80; N23, 509, 785. 60 and NGN23, 509, 785. 60 on the 14th June, 2016."
According to the petition, there is also "suspicious money laundering of the sum of N395, 103, 737. 13 million through Kefia Global Concepts Ltd which payments were made on the 29th March, 2016 and from the same bank, Zenith Bank as follows; N39, 243, 750. 00; N39, 765, 000. 00; N37, 765, 000. 00; N37, 878, 750. 00; N40, 495, 000. 00; N141, 393, 365. 99 (paid in 10th June, 2016) and N60, 562, 871. 00 paid in 17th June, 2016," among others.
"From the aforementioned, it is crystal clear that there exists many instances of breach of trust, money laundering and misappropriation of funds by the individuals and corporate bodies mentioned above.
"Therefore as a Civil Society Organization, with zero tolerance with the violation of the law and in pursuant with our mandate, we are under obligation to bring these suspected criminal conducts and financial crimes under your regulatory and investigative powers as provided under the Economic and Financial Crimes Commission Act.
"From the foregoing, we therefore urge you to use your good offices to do the following; urgently commence comprehensive investigation into our petition; promptly beam your searchlights on the Bank accounts of the Kogi State Government, particularly those of Zenith Bank Plc., Access Bank Plc., and Skye Bank Plc. That the personal and company accounts of the Governor of Kogi State, Yahaya Bello and others mentioned above be investigated with a view to determining the movement of the monies under consideration.
"That the accounts of the contractors and corporate bodies mentioned herein be investigated with a view to determining their levels of culpability; that any individual, or corporate body found culpable should be made to face the laws of the land and that all illicitly acquired monies and properties from the proceeds of the wanton looting of the Kogi State treasury be recovered and returned to Kogi State Government," it stated.
-Kazeem Ugbodaga