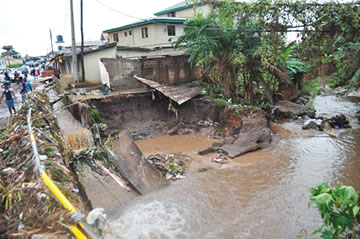 Residents of Kilanko Community in Ilorin on Tuesday embarked on the clearing of waterways to prevent flooding.
The area, according to some of the residents, is prone to flooding as drainages and waterways have been blocked by wastes.
Some of the residents, who spoke to the News Agency of Nigeria (NAN), said it was part of their effort to maintain a healthy environment.
Mr. Lekan Abdullahi, a resident, said that the earlier rains this year resulted in the major road in the community being submerged.
"We have had few rainfalls this year and each time it falls, the road is filled with water, cars are not able to move well because the drainages are blocked.
"It surprises me that at the level of civilisation and awareness, we have people still pouring wastes inside gutters and drainages, especially when the rain is falling.
"They believe that is the fastest way of disposing of wastes as the rain water will wash them along but these actions only increase the risk of flooding in the community.
"And that is why we have come together to clear the major drainages so that water can flow freely.
"With this, we can be safe from occurrences of possible flooding as predicted by the Nigeria Meteorological Agency (NiMet)," he said.
Another resident, Mr. Charles Owolabi, said the residents saw it as a necessity to clear the drainages because of the prediction from NiMet.
"We heard about the prediction from NiMet, so we don't want to take any chances whatsoever. So, we have decided to address it before it happens," Owolabi said.
Mrs. Deborah Agbebi, another resident, said "the junction to my house is an eyesore when rainfalls, in fact, there are no drainages there.
"I am happy that we are carrying out this exercise, we had community meetings and we told house owners who do not have drainages around their homes to make one.
"We want to prevent loss of lives and property this rainy season, and we urge residents who block waterways to desist from doing so, it is unhealthy for the society," Agbebi said.
Agbebi them pleaded with the government to raise more awareness on environmental sanitation and prevention of pollution in the state.