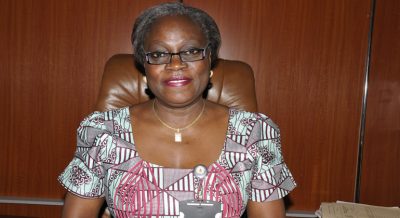 Mrs Yetunde Oni, the Acting Director-Geeneral, National Agency for Food and Drug Administration and Control (NAFDAC), on Tuesday warned the agency's workers against corruption and non-challant attitude to work.
"Over the years, we have battled with the devastating effects of corruption and the lackadaisical attitude of staft to work; be warned that any trace of that shall be decisively death with," she said in Jos.
Oni gave the warning in a speech to open a staff re-orientation and training programme.
She said that Nigeria and Nigerians were expecting so much from the agency and challenged its workers to brace up for new and modern challenges toward effective service delivery.
The NAFDAC boss declared her commitment to a decisive, firm, courageous, bold, accountable and transparent agency, and advised its workers to key into such virtues so as to further embolden the outfit to meet its mandate.
Oni described corruption to include abuse of public office, theft of public money and any improper bureaucratic conduct aimed at achieving personal gains in an illegal manner.
"In NAFDAC, a very common corrupt tendency is the use of work time by staff to engage in their personal business like the sale of items within the office.
"We also have situations where staff step out during office hours to accomplish personal endeavours; that is not right," she said.
She urged staff to re-examine themselevs toward effective service delivery, pointing out that such good services were the only contact between many people and government.
Oni called for more team work among NAFDAC workers, stressing that such attribute was crucial to meeting timeliness and efficiency in a world class regulatory agency.
The Acting DG challenged participants of the training to strive to be agents of change by disseminating information gathered, to other workers in their respective state and regional offices so as to maximise impact.
In her remarks, Mrs Josephine Dayilm, NAFDAC Coordinator (North-Central), said that the re-orientation programme was aimed at enhancing the quality of service delivery "especially in this era of change."
"The change mantra is here and we must all key into it so as to reposition the agency toward effective service delivery," she said.
Dayilim challenged NAFDAC workers to search their consciences to be sure they were assets to the agency.
"We must all re-examine ourselves to be sure we are putting in our best toward improving and sustaining NAFDAC's position as one of the top10 regulatory agencies in the world," she said.