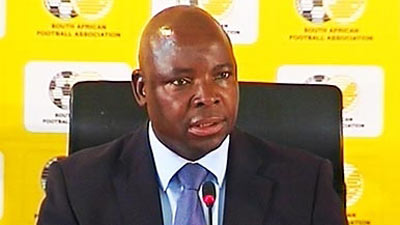 A FIFA investigator has proposed, at least, a six-year ban and 10,000 Swiss francs (10,393 dollars) fine for ex-South Africa football chief Kirsten Nematandani over alleged ethics violations.
The investigator, Djimbaraye Bourngar, also recommended life bans for former Zimbabwe Football Association official Jonathan Musavengana and former Togo national team coach Bana Tchanile for alleged bribery and corruption violations.
"The investigations into the three individuals were initiated in relation to their specific conduct in the organisation of several international friendly matches played in South Africa in 2010.
"Nematandani, head of the South African Football Association (Safa) from 2009 until 2013, had violated articles on general conduct, loyalty and disclosure," FIFA said in a statement on Wednesday.
Tchanile has already been banned from soccer for three years by his country's federation after taking a team masquerading as the Togo national side to play a friendly with Bahrain in 2010.
None of the three could be reached for comment. The case has now been passed to the Fifa ethics committee's adjudicatory chamber for a verdict and possible sanctions.
Investigations by soccer's world governing body FIFA have concentrated on warm-up matches South Africa played against Thailand, Bulgaria, Colombia and Guatemala in May 2010 ahead of the World Cup which the country hosted.