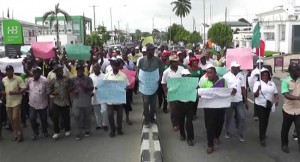 A group of thugs on Tuesday in Yenagoa attacked a peaceful protest carried out by members of NULGE and Medical and Health Workers Union (MHWUN).
The News Agency of Nigeria (NAN) reports that the thugs manhandled the protesting workers, including journalists who were there to cover the protest.
In a statement issued after the protest, the joint council of NULGE and MHWUN said the protest was in line with the struggle to improve the welfare of members in the state.
The statement was signed by Mr. Tonye Jaja, NULGE and Mr. Arafat Nwibani of MHWUN.
"We are demanding that the affected four chairmen of councils and commissioner for local government should immediately pay the bailout funds to workers of the affected council to avoid unpleasant consequences and sustain the peaceful industrial atmosphere in the system.
"JSEC unequivocally demands the full payment of the salary of March; we demand the release of LGAs allocations to the councils immediately," they stated.
NAN also reports that journalists were beaten black and blue by the thugs with some sustaining injuries and losing their valuables, including cash and gadgets.
One of the victims, Mr. John Odhe, a reporter with the state-owned newspaper, Newwavem, said,his experience was horrible.
"It was like a movie as the thugs descended on us and started manhandling us with planks and stones; I managed to escape for fear of my life," he said.