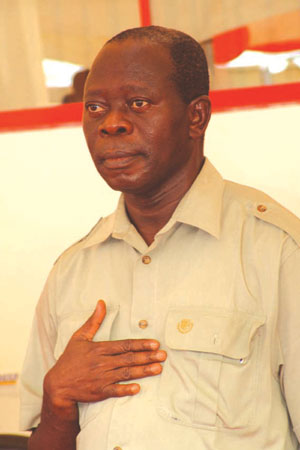 A total of 4,536 aggrieved members of the Peoples Democratic Party, PDP, in Egor Local Government Area of Edo State, South-South Nigeria decamped to the All Progressives Congress, APC, on Thursday.
Leader of the defectors, Mr. Promise Igbinevbo, who spoke on behalf of the others said the PDP had deceived them over the years and that the party was yet to shed its old ways in spite of attempts to rebrand it.
He said: "We are here to bury PDP today. We were deceived by some political leaders of the PDP all these years. Today, they call them new PDP but I realized that old PDP remains. I later realized that they are like the leopard which doesn't change its skin.
"PDP leaders are conservatives. PDP leaders cry for their parochial interest alone to the detriment of their followers."
According to him, "I have wiped off my tears because of the belief that I have in democracy. In democracy, it is said that the minority will have their say while the majority will have their way. Today, the majority are having their way from the PDP to APC.
"I want to let you know that I, my chairmen here, women leaders and all executives are members of PDP across Egor Local Government Area that we are here to team up with the Comrade Governor and his APC candidate, Mr. Godwin Obaseki.
I want to let you know that I don't bow down for people for nothing. I don't bow down to people because of money. I want to let you know that I bow down to people with integrity. We bow before Oshiomhole because of his handwork in Edo State."
Igbinevbo who called out each of the 4,536 decampees from across the wards in Egor Local Government said he and the new APC members would go out on their own to ensure total victory for the APC in the local government area.
Receiving the defectors, Governor Adams Oshiomhole said he was impressed by the large number and quality of those who decided to join the APC fold.
"Today, I have seen people with a difference. When my brother came and said he didn't want to come with APC members; he wanted to do it in a hall where only PDP decampees will be present, I didn't quite understand him or believe him.
"I said he should allow APC members to come, and he said, no, if APC people come, he would not be able to call the number of PDP people that are decamping. So, when I entered this hall and I see this sea of heads, thousands of PDP women and youths, leaving PDP to join APC, I said, and it is stated in the Bible, now for PDP, it is finished. There is nothing left," he said.
The Governor said the decampees were coming at the right time, adding that they would be fully integrated into the APC fold.
Governorship candidate of the APC, Mr. Godwin Obaseki who also addressed the defectors said, "You have all made a good and correct decision to come and join our great party at this time, because this stage we are going into is the one in which we need everybody.
"We cannot have distraction because we now need to focus on human beings; we now need to focus on human development; we now need to create jobs for our young people. We now need to empower our women to expand their businesses. We now need to train our youths and give the technical skills."
He added: "So, you are coming at the right time to come and join us to put forces together so that we can grow Edo and take Edo to the next level, and make Edo number one again. I welcome you and assure you that we are all one together."