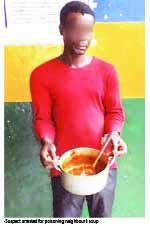 A family of three, on Wednesday, narrowly escaped death after their neighbour decided to spice up their pot of soup with a popular insecticide otherwise known as 'otapiapia' in Lagos.
According to reports, a woman, who was cooking soup in Baale Aiyetoro Street, Ajegunle area of Apapa and had gone to buy salt, but when she returned, she discovered that the soup aroma had changed to an offensive odour of the insecticide.
The woman, Daily Sun reports became suspicious and quickly notified her landlady.
The landlady immediately swung into action by arresting the only co-tenant on the premises after which she took him to the traditional ruler of the area, who handed him over to the police.
Gordon Daniel, the suspect during interrogation, reportedly confessed to the crime.
Daniel told the police that, "the devil pushed me to do it. I doused the soup with sniper insecticide so as to deal with the family. The husband insulted me last time because of the electricity bill. He called me a poor man; the devil pushed me to do it. I am sorry."
The case has been transferred to the state Criminal Investigation Department (SCID) Panti, Lagos.