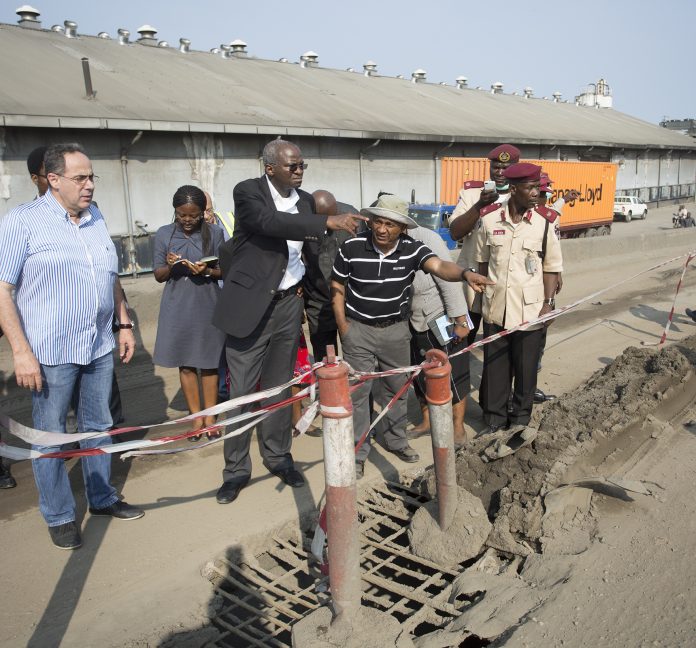 Some road users in Lagos have commended the Federal Government on the speed of construction works to save the dilapidated Apapa Bridge.
The road users in separate interviews with the News Agency of Nigeria (NAN) in Lagos on Thursday expressed satisfaction with the filling of pot holes on Wharf Road which had eased gridlock.
Asphalt was being laid on the road from around the diversion towards the approach of the bridge.
Earthmoving equipment was being used to remove old layers of asphalt on the bridge, while some workers were removing silt out of the drains under the damaged bridge.
A travel agent, Mrs Toyin Sogbesan, told NAN that the speed of work showed that government was willing to deliver the project on time.
"We know how the Minister of Power, Works and Housing, Mr. Babatunde Fashola performed as governor in Lagos, and we are now seeing the action.
"However, the government should exhibit this same zeal to repair other federal roads begging for attention in Lagos State," she said.
A commercial motorcycle operator, Mr. Nicholas Gbedoho, commended the speed of work and the repair of other roads leading towards the dilapidated bridge.
"We are happy with the progress of work on the bridge and the fact that they have filled potholes around Wharf Road has reduced traffic.
"The contractor should use construction materials that are sturdy because of the heavy duty trucks that always ply this road.
"The contractor should refrain from their usual old practice where the potholes will resurface after a few weeks."
Malam Garba Wudil, a businessman, said that the speed of work would enhance business activities in the ports.
"With the way the contractor is going, I know that by next week, everything will return to normal and it is good for business and good for the nation's economy," he said.
Also, Mrs. Seyi Bamho, an Advert Executive and Mr. Fredrick Rega, a Freight Forwarder, also commended the progress of work on the bridge.
On Aug. 5, Fashola inspected the dilapidated bridge which was damaged by fire that exposed some steel layers on the bridge.
The minister, after meeting with relevant stakeholders on Aug. 7, ordered the immediate closure of the bridge and Julius Berger moved to site the following day to begin emergency repair works.
An impact assessment of the bridge was carried out on Monday towards the permanent repair of the bridge as the emergency work progressed.