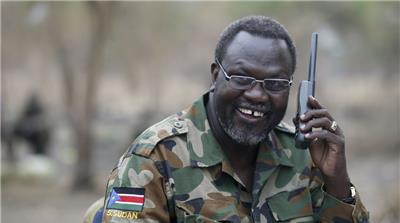 The Former South Sudanese rebel leader Riek Machar has left the country after clashes with the army sent him fleeing the capital Juba last month, his spokesman, James Gatdet said on Thursday.
"Machar has successfully relocated to a neighbouring country", Gatdet said, without naming the country.
According to the dpa report, Machar representative who did not want to be identified said he was in the Ethiopian capital Addis Ababa.
South Sudanese presidential spokesman Ateny Wek Ateny said he was not aware of Machar having left the country.
Power struggle between President Salva Kiir and his former deputy Machar evolved into a military conflict in Dec. 2013, killing thousands and displacing more than two million people.
The two men signed peace agreement a year ago and formed a unity government in April, with Machar reinstated as vice president.
However, renewed fighting erupted in July, killing hundreds of people and forcing Machar's troops out of Juba.
Kiir then sacked him from the post of vice president, dealing a new blow to hopes of peace.