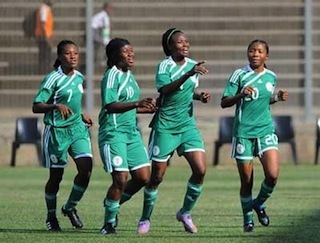 Ayo Abdulrahaman, the Secretary of Nigeria Women Football League (NWFL) says the management of the league has sent seven football clubs packing for failure to honour their matches.
Abdulrahaman made the disclosure in an interview in Abuja on Thursday.
The scribe said a total of seven clubs, four from premier and three pro leagues have failed to honour three matches.
"The four premier league clubs are Martins White Doves FC of Benin, Tokas Queens football club of Ilaro , Capital City Doves FC of Abuja and follow by Nassrawa Amazons FC of Lafia.
"In the Pro league we have Cerezo Queens FC, State House Queens FC and Invincible Angels of Benue. These are clubs that were unable to play three games,'' she said.
The scribe appealed to the clubs owners to honour their matches during the ongoing 2015/2016 season.
"For any serious league (it) must show some level of seriousness in term of participation.
"We have been making effort and we never know that the past record was what is retaining the league.
"You can be talking of sponsors, for those who follow women league we discuss with them well, we are on website and we receive this walk over it is not impressive.
"For us to make her a wife or a husband to a partner in the corporate world we must be serious that we are committed of the course of Nigeria women league,'' he said.
Abdulrahaman stressed the need for the clubs owners to adhere to clauses of the agreement they entered with the league management so as to develop the league further.
"As club you wrote an undertaking that you will fulfill all the league requirements and they should please adhere to this agreement.
"So I appeal to them (Club owners) to please honour their games and to make the girls out there play what they know to do best.
"They should also ensure the welfare of these girls have to be properly taken care of. ''