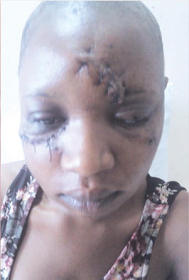 A man by the name Stephen Shut Jang in Sabon Gari, Tudun Wada, Jos, Plateau State, has been arrested for butchering his girlfriend, Justina Dusu Chado, and her elder sister, Simi Dusu Chado, when the duo went to confront him about the pregnancy of Justina, back in July.
Jang had allegedly been ignoring Justina's calls ever since he got her pregnant, forcing her elder sister, Simi, to intervene by dragging her to his house to address the issue.
According to reports, when the sisters got to his house, he told Simi to excuse them so that he could have a heart-to-heart talk with Justina.
Once Simi stepped out, he locked the door and reportedly started using a machete on Justina, while kicking her stomach. Justina started shouting for help and Simi came knocking, begging him to open the door, but his refusal to open the door forced Simi to break the door to enter the room.
once Simi was in the room, Stephen turned on her and started butchering her with the same machete while Justina laid helplessly on the floor.
Help finally came, but it was too late for Simi, as she eventually died.
Tyopev Mathias Terna, the Plateau State Police P.R.O while confirming the incident, said that investigation into the matter was ongoing, adding that the case would soon be transferred to the State CID, for further in­vestigation and Jang would be charged to court as soon as possible.