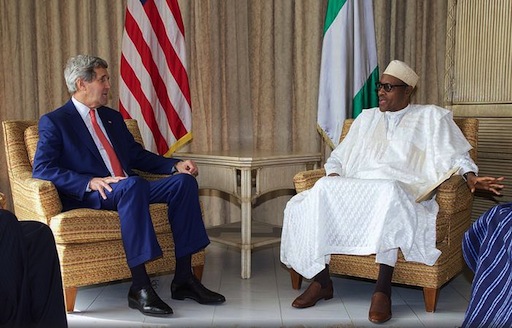 Mr John Kerry, U.S. Secretary of State, on Tuesday met with President Muhammadu Buhari behind closed doors in the Presidential Villa, Abuja.
The Secretary, who arrived the State House around 3.04 p.m., discussed key domestic and regional challenges including Boko Haram insurgency and the plight of the Internally Displaced Persons with President Buhari.
Buhari and Kerry also discussed other topical issues bordering on counter-terrorism efforts, the Nigerian economy, the fight against corruption, the rule of law and human rights.
Other engagements of the U. S. Secretary of the State, at the State House, include a meeting with some selected governors from the Northern states of the country.
The U.S. Secretary of State is billed to leave Nigeria for Saudi Arabia on Wednesday.