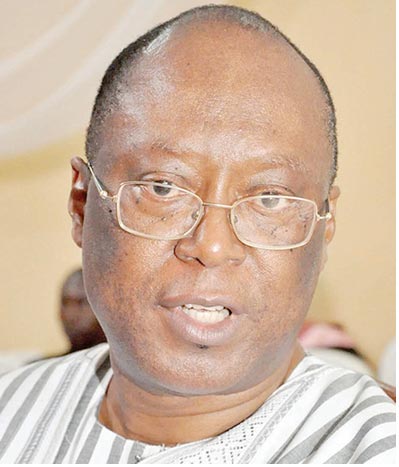 Former governor of Edo, Prof. Oserheimen Osunbor, said he was declared disloyal by Peoples Democratic Party (PDP) his refusing to share the state's resources to party leaders.
Osunbor, who defected to the All Progressives Congress (APC) at the 2015 general elections, disclosed this at APC's campaign rally in Iruekpen, Esan West Local Government Area, for the Sept. 10 governorship election in the state.
He described the PDP as an "evil party", whose interest was not in the development of the state, but to share the resources among party leaders.
He said that such mentality of the party was the reason for the defection of prominent sons and daughters of the state to the APC, adding that PDP was a "sinking ship".
"Evil people have hijacked the PDP; the party is a sinking ship, which is why I have told my people to act like the former president, Obasanjo, by tearing their PDP membership cards.
"I have told them to join the party that is interested in their welfare and the overall development of the state.
"PDP has no interest in what becomes of the state and the people, but their pockets.
"This was why they said I was not loyal because I refused to share the money meant to develop the state while I was the governor. That was why they started fighting me.
"The PDP, whether at the local, state or federal level can't do anything for us, it is only the APC that can make us a proud people through development," Osunbor stated.
Addressing the rally, the APC governorship candidate, Mr. Godwin Obaseki, said that Edo people, having produced great sons and daughters in various sectors of the polity, deserved the best.
He said that he was in the best position to govern and offer the people the best, being part of Oshiomhole's success story.
Obaseki promised to not only continue with the laudable projects of the Adams Oshiomhole government but to take it to another level through job creation and human empowerment.
70 members of the PDP defected to the APC at the rally.