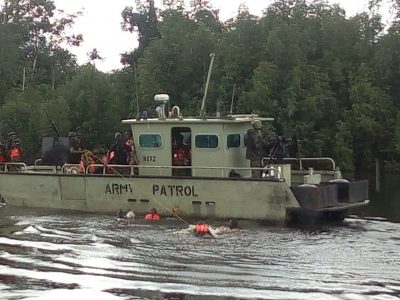 The Chief of Army Staff, Lt.-Gen. Tukur Buratai, has confirmed the killing of suspected militants and recovery of a large cache of arms by troops involved in "Exercise Crocodile Smile" in Rivers.
Buratai confirmed the incident while addressing troops at the commencement of the exercise in Sapele, Delta on Saturday.
He said that some suspects were arrested following raid on the militants' camp on Friday evening by troops of the Army's 133 Special Forces Battalion.
Buratai said that the suspected militants had attempted to interfere with the training conducted for formations and units in the Niger Delta.
He said: "as you move into the creeks to conduct the exercise, I urge you to be professional in your conduct and clear any obstacle interfering with your job.
"Your colleagues in Rivers in the same exercise are doing well; yesterday evening they cleared a camp of the militants and recovered a large cache of arms.
"Some arrests were made while a number of the attackers who had attempted to interfere with the exercise were killed.
"You have to take a cue from them and be responsive as you move into the surrounding creeks."
The Army Chief urged the troops to respect the rights of members of the communities while discharging their duties, urging them not to spare any criminal found in the creeks.
He reminded them that the training was an exercise cum operation geared at recovering the nation's economic base and restoring normalcy in the region.
He assured the troops of government's commitment to improve their lots during the operation as well as the general welfare of soldiers and officers.
He cautioned them on the need to minimize collateral damage during the exercise, noting that the lives of citizens as well as critical national assets located in the area were important.
Speaking earlier during a courtesy call on the Olu of Warri, Godfrey Ikenwoli, Buratai assured residents of Warri and its environs that no law abiding citizen would be harmed in the course of the exercise.
He said that the troops had been directed to conduct the exercise strictly on established rules designed to protect the rights of citizens.
Buratai pledged the Army's continuous partnership with the civil populace to ensure a safer society.
In a related development, the Army's spokesman, Col. Sani Usman in a statement, put the number of militants killed in the operation at five while 23 suspects were arrested.
Usman listed the items recovered from the camps to include two AK-47 rifles, 11 Pump Action Guns, and a locally made revolver pistol.
Others are 292 cartridges of live ammunition, 199 rounds of AK-47 rifle ammunition, four electricity generating sets and a Camp Gas Cooker.
Buratai accompanied by corps commanders and other senior officers was conducted around the area where the exercise was conducted in the creeks.