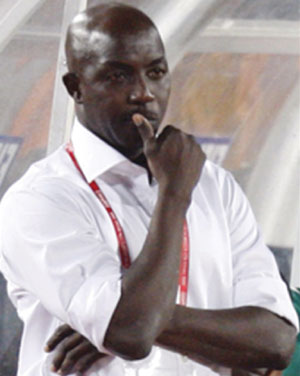 Samson Siasia, who helped Nigeria to men's football bronze medal at the Rio Olympics, says he no longer want to have anything to do with the game in the country.
The Dream Team VI coach said in an interview that he no longer wanted to be involved in what he described as "a disrespectful
system''.
Siasia, who also won a silver medal at Beijing 2008, claimed he had gone unpaid for five months by his employers, the Nigeria Football Federation (NFF).
He recalled that he and his players had "a turbulent and incredible campaign in Brazil'' during the Olympics and he had now had enough.
"I have reached that point where I have to say I have had enough," Siasia, whose contract expired with the end of the Olympics, said in the interview.
"I've gone several months without getting paid, and also years of being derided and disrespected by the sports authorities in Nigeria. But I am done already.
"It's sad that after all we went through to get to Brazil and after we ended up winning a bronze medal, the players, as well as coaching and backroom staff, never received a `thank you' message in appreciation.
"It was unimaginable that this could still happen in spite of the turbulent time we had at the Olympics,'' the coach said.
He pointed at the embarrassment he and his team had faced in the hands of the Youths and Sports Minister, Solomon Dalung, and said he had thought it all out.
"First we had the Minister deriding us for camping in Atlanta, U.S. and he even denied our existence as a group. This was before the flight problems.
"Our players had to embark on a strike to be heard.
"But the boys kept a good spirit to win an incredible medal, only to be publicly criticised for speaking to the Japanese surgeon who supported and rewarded the team for their brave spirit
"I've taken a deep look at everything and concluded that things need to change for us to progress as a country, and this is not just in football but in our general lives.
"I have fulfilled my obligations as a citizen, footballer and coach. So, right now I do not want to be involved in the Nigerian football system anymore," Siasia said.
All efforts to get the NFF to confirm Siasia's resignation failed to yield any result.

Load more