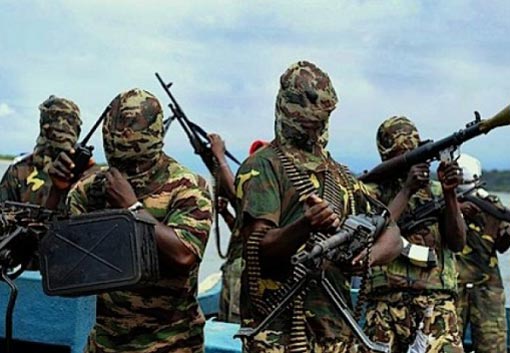 The Niger Delta Avengers, NDA, says Nobel laureate, Prof. Wole Soyinka cannot represent them in the proposed dialogue with the Federal Government, insisting on Chief Edwin Clark as their representatives.
The group said its high command was bothered again on the insensitivity to the genuine plight of the Niger Delta agitation by every successive government of Nigeria and the present handlers of the All Progressives Congress, APC government.
"We are amazed that Prof. Wole Soyinka, has been taken on the jugular by enemies of the Niger Delta because of his belief that the government of the day should understand the need to restructure and listen to the Niger Delta agitation positively," said Mudoch Agbinibo, NDA's spokesman in a statement on its website.
"That we, the NDA have named Prof. Wole Soyinka and some incredible names to advise and lead any group is the lie of the century. The handwriting is so clear that our Nobel laureate's name is going the infamous way, as he is being named along as an adviser with some unscrupulous characters as Niger Delta Avengers dialogue team with the government of Nigeria.
"Putting the records straight, the name(s) parading as factions of the Niger Delta Avengers are just the figment of some persons protecting their jobs and hell bent on derailing the wheel of progress in the history of Nigeria and the Niger Delta agitation," Agbinibo added.
According to him, "our strike team and command structures have not at anytime contacted these Nigerians to advise or lead any contact with the government of Muhammadu Buhari on the Niger Delta agitation. We have shown our respect and restraints to personalities that have been too fixated to impress Abuja in the name of the Niger Delta struggle since the beginning of "Operation Red Economy" ignorantly or willingly.
"The NDA cannot be teleguided by Mr Charles Okah and Henry Okah from their respective prison cells using disorganised characters of the All Progressive Congress (APC), from the Niger Delta to impress Abuja. We are not unaware of the creations of the Nigerian Intelligentsia community and security apparatus to sustain the Niger Delta struggle to bloat their pocket and credibility.
"The NDA has unequivocally given its tacit support to Chief Edwin Kiagbodo Clark, the Niger Delta elders and stakeholders conference committee to lead the Pan-Niger Delta Negotiations/Dialogue Team, whenever this wicked entity called Nigeria shows readiness."
-Kazeem Ugbodaga