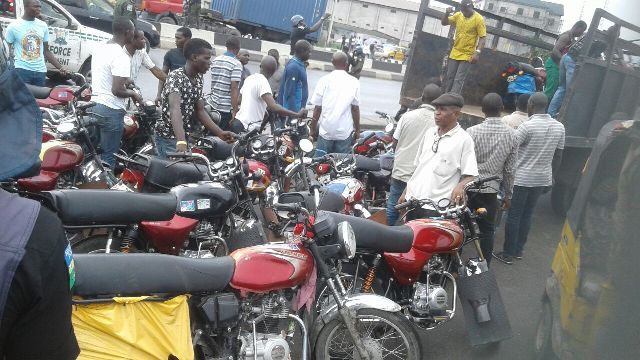 The Lagos State Environmental Sanitation and Special Offences Unit, (Taskforce ) has impounded 98 motorcycles including tricycles at Mile 2 and FESTAC areas of Lagos, Southwest Nigeria.
The enforcement was led by the Chairman of the Taskforce, Olayinka Egbeyemi.
Egbeyemi disclosed that the operation was carried out based on persistent petitions from members of the public around FESTAC and Mile 2 about criminal activities perpetrated by operators of both motorcycles and tricycles.
He said that residents living around these areas complained that criminals used both okadas and tricycles to dislodge them of their valuable properties during day-time and at night.
Egbeyemi said the residents, in their petition said they could no longer sleep with their two eyes closed.
The taskforce chairman said the agency would continue to impound and arrest violators of government's policy on restricted routes across the State until owners and operators of both motorcycles and tricycles complied with the order as enshrined in the Lagos State Road Traffic Laws of 2012.
He noted that government's policy on restricted routes across the State was meant to protect lives of members of the public, particularly that of owners and operators of motorcycles and tricycles, including their passengers.
The chairman said emphatically that the agency was battle ready to confront notorious okada and tricycles operators plying restricted routes in Apapa, Ikorodu, Mile 2, Agege, Lagos Island, Ido, Ebute-Metta, Ojuelegba, Fagba area at Iju, Airport Road and Lagos-Abeokuta express road.
Egbeyemi hinted that the government was currently working on providing the agency with more protective equipment that would safeguard the series of attacks while on duty.
Meanwhile, the Lagos State Commissioner of Police, Fatai Owoseni has directed that all those arrested be charged to the Lagos State Magistrate Court and also warned seriously that Lagos State would not spare anyone using motorcycles to perpetrate crime in Lagos.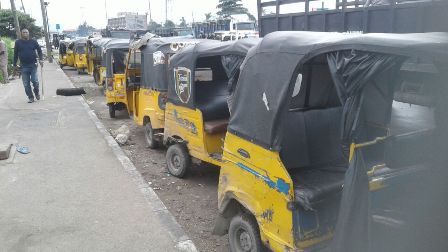 A resident, Alhaji Wasiu Olaniran said it had become worrisome every day seeing these people using motorcycles and tricycles to perpetrate criminal activities around the area.
According to him, the criminals usually rob people of their valuables such as wallets, neck-chains and telephones.
Olaniran, who requested for regular raiding of criminals around the area, however, commended the chairman of the Taskforce for his prompt intervention.
Another victim, Mrs Ngosi Akpan said the criminals had used motorcycles to cut off her neck-chains and snatched her Samsung Galaxy phone while she was going home from work.