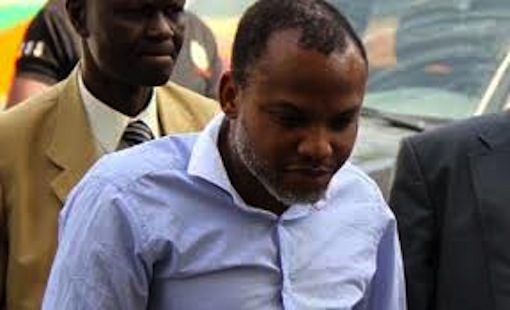 The Indigenous People of Biafra (IPOB) has raised an alarm over Nnamdi Kanu's life in Kuje Prison.
The IPOB in a statement on Monday signed by its Media and Publicity Secretary, Comrade Emma Powerful, accused the Federal Government of trying to kill Kanu in prison.
The group disclosed that Kanu's room in Kuje Prison was teargased on Monday and gun shots fired in his direction.
According to IPOB, the federal government and the DSS, through their prison authority and warders in charge of Kuje prisons have perfected arrangements to snuff the life out of our leader Mazi Nnamdi Kanu and those with him in the prison in disguise of separating the inmates who were having misunderstanding with fellow inmates."
"The federal government and security agents through their prison waders orchestrated violence in the prison in order to have excuses to eliminate Mazi Nnamdi kanu.
"The orchestrated violence by the federal government and DSS through the prison authority to be executed by prison warders started shooting sporadically towards the doors and windows where our leader Mazi Nnamdi Kanu and two other IPOB members were detained.
"The prison warders went to search some prison inmates very far from where Mazi Nnamdi Kanu and two others were kept all of a sudden they started shooting life bullets towards the direction where our leader was kept, the cannon teargas was thrown inside the room he stays.
"Right now, we don't know the condition of our leader Mazi Nnamdi Kanu and others detained alongside with him.
"We are calling on the international community, the United Nations, UN, the African Union AU, lovers of freedom, Amnesty International, AI, Human Rights Watch/NGO's and the well meaning Nigerians who understand the meaning of self determination to come to our rescue because right now we don't know the condition of our leader."