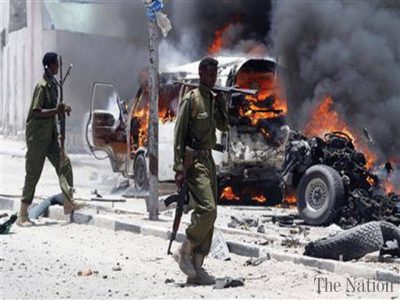 ive persons were confirmed killed when a suicide car bomb exploded close to the Somali president's residence in Mogadishu Tuesday, partially destroying nearby hotels, police told Reuters.
Huge clouds of smoke were seen over the capital and gunfire was heard.
"A suicide car bomb exploded outside the presidential palace. So far two hotels opposite the palace are partially destroyed," Major Mohamed Ali, a police officer, told Reuters.
Local media reported that gunmen had stormed the nearby SYL hotel, but those reports could not immediately be confirmed by NBC News.
It comes only three days after a car bomb and gun attack at a popular beach restaurant in the city killed 10 people.
That attack was claimed by regional al Qaeda-linked terror network al Shabaab which aims to topple the Western-backed government.