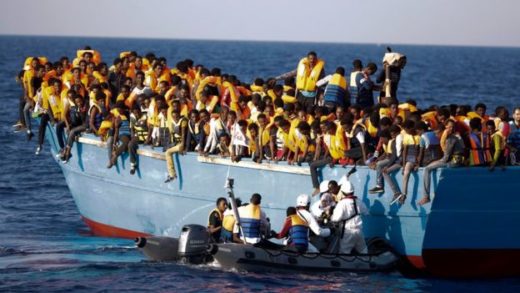 About 6,500 migrants have been rescued off Libya, the Italian coastguard says, in one of the biggest operations of its kind to date.
Migrants from Eritrea and Somalia cheered, with some jumping into the water and swimming to the rescue vessels while others carefully carried babies aboard, AP news agency reported.
Some 40 separate rescue operations took place, the coastguard said.
The instability in Libya has made the country a hub for people-trafficking.
'Push' factor drives migrants away from Libya to Europe
The rescue took place about 20km (12 miles) off the Libyan town of Sabratha and included vessels from Italy as well as the EU's border agency Frontex and the NGOs Proactiva Open Arms and Medecins Sans Frontieres.
The migrants had set off in overcrowded and unseaworthy vessels with enough fuel to reach waiting rescuers, the Associated Press news agency reported.
Last year more than 1m migrants – many fleeing the civil war in Syria – arrived in Europe, sparking a crisis as countries struggled to cope with the influx, and creating division in the EU over how best to deal with resettling people.
In March, the EU struck a deal with Turkey to try to stop migrants crossing from Turkey to Greece while Balkan nations closed their borders to migrants, moves that have reduced the number of arrivals using the so-called eastern Mediterranean route.
However, migrants from African countries such as Eritrea and Somalia as well as west African nations such as Nigeria and the Gambia are continuing to attempt the crossing from Libya to Italy.
About 106,000 people have arrived in Italy so far this year while 2,726 have died in the attempt, according to the International Organization for Migration (IOM).
The IOM says there are a further 275,000 migrants in Libya waiting to travel.
Overall, about 284,000 migrants have entered Europe so far this year through various transit routes across Africa, Asia or the Middle East.
Source: BBC