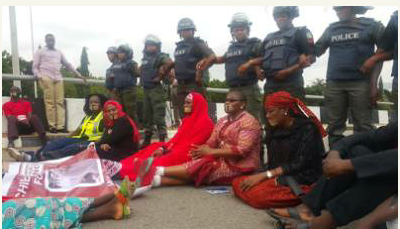 Dr Oby Ezekwesili and other members of the BringBackOurGirls campaigners on Tuesday staged a dramatic protest at the road leading to Aso Rock, Abuja, by sitting on the road and sealing their mouths with cellotape.
The group which is mounting pressure on the Buhari administration to swiftly act and rescue the abducted Chibok schoolgirls, decided to sit on the road after they were denied access to Aso Rock by security officials.
Policemen formed barricade in front of the access road to Aso Rock and told the protesters that they cannot go further. Thereafter, Ezekwesili and others sat on the road with their mouths sealed.
It's the third time the BringBackOurGirls campaigners would be denied access to the seat of power.