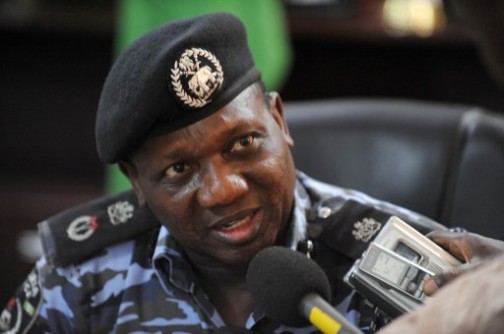 The Inspector-General of Police, Mr Ibrahim Idris, has said that the police will deploy massive personnel and equipment for the forthcoming Edo and Ondo governorship elections.
Idris said this on Wednesday at a meeting with Command Commissioners of Police, AIGs in charge of the 12 zones across the country, as well as other senior officers.
On the Sept. 10 Edo election, the I-G said: "We are coming up with a very, very strategic order. We are going to deploy the marine police in the waterways.
"We are going to deploy our helicopters in the air for surveillance. We are re-enforcing the state with thousands of policemen."
According to him, 200 vehicles will be deployed to the state for the election.
On the Ondo election, Idris noted the large number of contestants that would participate in the Saturday APC primary, saying that might pose some challenges.
"We seem to have a large number of contestants in Ondo State; I think the APC has about 23 contestants. That is the area we are seeing that we will have challenge," he said.
He, however, said he had directed the Assistant Inspector-General of Police in charge of the zone to be on ground on Friday to work with the Commissioner of Police in the state
According to the inspector-general, this is to ensure peaceful APC primary in Ondo.
He charged all personnel that would be involved in elections in those two states to be professional and operate within the code of conduct.
"We want all our policemen that will be involved in these elections to be apolitical," he added.
Idris, however, commended policemen for their professional conduct during re-run elections recently conduct across the country and urged them to replicate that in subsequent elections.
The I-G also used the opportunity to restate the ban on road blocks, noting the re-emergency of the menace in parts of the country, especially the South-South and South-East zones.
While maintaining that the ban remains, he directed commissioners of police and AIGs in those zones to set up a team to monitor and remove all roadblocks.
Meanwhile, the I-G has presented cheques worth N192 million to next of kins of policemen who had died in the line of duty.