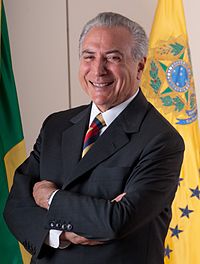 UN Secretary-General Ban Ki-moon has extended his best wishes to Brazilian President, Michel Temer, as he began his tenure.
The secretary-general, in a statement issued by his spokesman, on Thursday in New York that he has taken note of the decision by the Brazilian Senate to impeach President Dilma Rousseff and the subsequent swearing in of acting president as the new president of Brazil.
Ban expressed the hope that under President Temer's leadership, Brazil and the United Nations would continue their traditional close partnership.
He, however, commended President Rousseff for her commitment and support to the work of the UN throughout her tenure.
Temer would serve as president until Dec.31, 2018.
Speaking from the presidential palace, accompanied by allied politicians and union leaders, Rousseff said the Senate "had taken a decision which enters into the history of great injustices."
Shortly before the swearing-in, Rousseff vowed "a firm and energetic resistance against the putschist government.
Rousseff is known for her disdain for dialogue and her impatience with negotiations, and her detractors branded her arrogant.
But she always maintained her reputation as an honest politician, and very few dared directly question her integrity.
But Brazil's new president, Rousseff's former political partner Michel Temer, defended the legality of the impeachment, as did many experts.
Even Fernando Collor de Mello, who resigned as president in 1992 before his own impeachment trial on corruption charges was to begin, voted in favour of removing Rousseff from office.
Rousseff's supporters, by contrast, see the impeachment process as a pretext to put an end to more than 13 years of leftist government.
They said that accounting tricks to disguise public debts like those of which Rousseff is accused were an established practice of previous governments.
Luiz Belluzzo, an Economist,who testified in Rousseff's defence, said in the Senate that."A mandate bestowed by universal suffrage should be cut short only in extreme cases.
"I don't believe this is one," he said.
Rousseff and many of her allies believe the fall from grace of the first woman president of the fifth-largest country in the world is further due, in part, to the prejudices of a still-conservative, macho society.