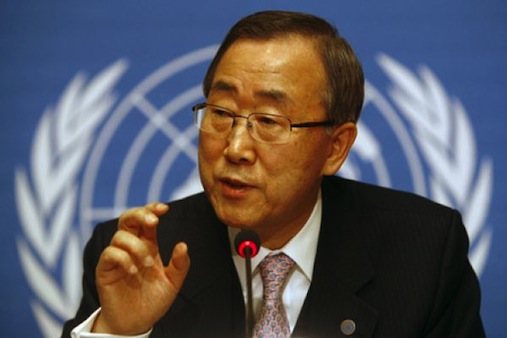 UN Secretary-General Ban Ki-moon has on Thursday in New York, urged all concerned political leaders in Gabon to maintain peace and security in the African country.
The move came after the announcement of the provisional results of the presidential election, that Gabon's incumbent President Ali Ondimba has won the presidential elections by garnering 177,122 votes, 49.8 percent of the total.
The secretary-general in a statement expressed his deep concern about the reported acts of arson and clashes between protesters and security forces in Libreville.
Ban urges all concerned political leaders and their supporters to refrain from further acts that could undermine peace and stability of the country.
The statement also called on the authorities to ensure that the national security forces exercise maximum restraint in their response to protests.
Ban reiterated his call on all political leaders to address their differences peacefully and to address any disputes they may have through existing constitutional and legal channels.
Meanwhile, the secretary-general has requested Abdoulaye Bathily, his special representative for Central Africa and Head of the United Nations Regional Office for Central Africa, to accompany the political stakeholders in Gabon in their efforts to calm the situation.
He also urged them to peacefully resolve the contentious issues emanating from the electoral process.
Ban promised to continue to monitor the situation closely.