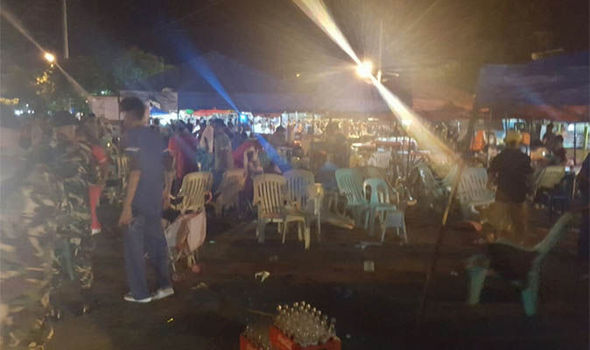 At least 14 people have been killed and dozens hurt in an explosion at a night market in Davao City in the Philippines, according to the Philippines News Agency, quoting a police official.
Earlier, Chief Superintendent Manuel Gaerlan, the director of Region 11 of the Philippine National Police, told CNN Philippines that 12 people were killed and 60 injured. He said 10 people died at the scene and two died after being taken to the Southern Philippines Medical Center.
He said the situation was fluid, and a maximum deployment of police and armed forces was called in to secure the region.
He asked the public to be vigilant, adding that the government was on the watch "in case there are other attacks."
He said Philippines President Rodrigo Duterte, whose hometown is Davao City, was heading to the explosion site. It occurred at a busy night market known to attract thousands on Mindanao, the southern Philippine island where the city is located.
Paolo Duterte, Davao City's vice mayor and the President's son, told CNN Philippines that 60 people were injured in the blast. The Philippines News Agency said three of them are in critical condition.
All victims appear to be adults, Gaerlan said.
Authorities were still trying to confirm the cause of the explosion, he said. While the city was not on lockdown, there was an alcohol ban in place, and officials had asked people in the area to return to their homes.
Davao City was on high alert, with police checkpoints set up throughout the city, officials said.
Noel Vilanueva, medical director of Davao Doctors Hospitals, told CNN Philippines that four patients were brought to the facility, one of whom required surgery for a leg injury. That patient had metal fragments in the wounds.
Presidential spokesman Martin Andanar mentioned the possible involvement of the Islamist militant Abu Sayyaf group or drug lords, according to CNN affiliate ABS-CBN.
Duterte campaigned on a no-nonsense approach to crime and the Philippine Daily Inquirer's "Kill List" — regarded as one of the most accurate records of the killings of suspected drug dealers by police and vigilantes — has recorded 832 deaths since Duterte assumed office June 30.
Police say at least 239 drug suspects were killed in the three weeks after Duterte's inauguration.
And government troops have been battling Abu Sayyaf, which remains outside the country's sputtering peace process.
Andanar said components of a suspected improved explosive device were found at the scene of the explosion, according to ABS-CBN.
Leonor Rala, a 19-year-old medical technology student at San Pedro College, told CNN she was in her dorm and about to go to bed when she heard an explosion.
She said she initially thought something had fallen on the roof of a neighboring building. She then went down to survey the scene of the blast, about 100 yards from her dorm. Emergency teams were already in place.
"I am really scared to go out," she said. "The roads are closed and nobody's allowed to go out of the city. There are bomb threats everywhere and some of my schoolmates are victims of the explosion and now dead."
She continued: "We're very terrified because Davao City was known to be the safest city in the Philippines and a situation like this is very rare."
Witness Janoz Laquihon told CNN Philippines he was at the scene when the explosion happened.
"I saw some smoke. I thought it's just barbecue. A few minutes later … a big blast."
Witness Father Jboy Gonzales told CNN Philippines that he saw more than 30 people being loaded onto ambulances.
"[A] lot of people are wounded, shocked, traumatized," he said.
Davao City Government tweeted on its official account: "Let us pray for the victims of this unfortunate incident, especially for those who died."
Duterte made his name in politics as the mayor of Davao City. His term in office was noted for his hardline stance on drug crime that he has now incorporated into his national policies. It has resulted in more than 1,900 people being killed in a crackdown, which has drawn criticism at home and abroad.
Maria Ressa, executive editor of Philippines news website Rappler, said the blast occurred amid tensions surrounding Duterte's war on drugs, as well as an ongoing peace process with Muslim militants in the southern Philippines.