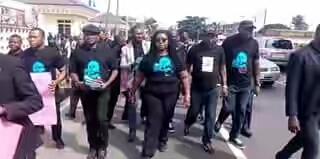 Hundreds of human rights activists from Rivers, Bayelsa and Delta states on Friday held a peaceful demonstration at the headquarters of the Rivers State Police Command over the murder of human rights activist and lawyer, Ken Atsuwete.
The demonstrators called on the police to act fast and bring to book the killers of the human rights lawyer.
Anyakwe Nsirimovu, Director of Institute of Human Rights and Humanitarian Law (IHRHL) said the protest was organized under the auspices of Niger Delta Civil Society Coalition (NDCSC).
The activist revealed that the peaceful procession began with an audience with the Rivers State Commissioner of Police, Francis Mobolaji Odesanya.
The protesters wore black T-shirts on black trousers and carried inscriptions like: "End the killings in Rivers", "Fish out the killers of Ken, "This is one killing too many", "Enough of Blood Spilling in Rivers", "Ken's Blood will Speak".
One of the conveners of the protest, Charles Jaja said: "We converge to register our displeasure over the murder of Ken. We have come to demand that the killers of Ken be fished out because we cannot allow this to continue to happen in Rivers State. It was Ken that took the Rivers State Government to court over the social levies bill under former Governor Chibuike Amaechi; he also took up my case when I was detained in Port Harcourt Prisons for 11 months probono (free of charge). He fought for widows, Okada riders when former Governor Peter Odili banned them. He had always been there for those whose rights had been violated."
After the meeting with the Commissioner of Police, the protesters marched to the office of the Department of State Services, DSS, at the old GRA and the Government House, Port Harcourt. After waiting at the gate and no government official came out, they left.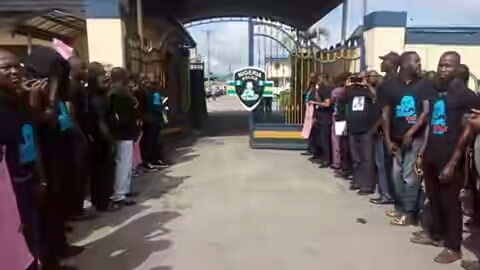 Nsirimovu said later, "right to life is precisely why the right to liberty is not only a fundamental condition of democracy, democracy is a condition of liberty.
Just as law is a prerequisite to preserving man and woman's liberty against infringement by others in the exercise of their liberty, so, democracy is essential to ensure that the law will fulfill that function. That is not happening in Rivers State today. Killers kill with impunity and walk away free. Power is abused simplicita.
"Citizens do not feel secure. The democratic atmosphere does not breed confidence in personal security. The equation is this: Life without liberty, however you define that liberty, is meaningless. Without security, liberty is fiction, and security permeates all levels and all phases of human existence. Without the security to act freely, men and women are not able to act and indeed go about their business freely in the state.
"Our peaceful protest is a call to action: ensure criminals no matter how highly placed, or those they exist to protect are picked up and made to face the due process of law."
Atsuwete was gruesomely murdered by unknown assassins on Monday September 29 in Aluu in Ikwerre local government area of the state.
Okafor Ofiebor/Port Harcourt