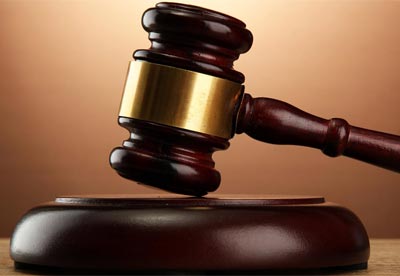 A 45-year-old pastor, Chukwuemeka Okoro, and his wife, Esther, 39, were on Friday arraigned in a Mararaba Upper Area Court for allegedly intimidating their neighbour.
The couple, who reside in New Karu, Nasarwa State, were arraigned on a three-count of intimidation, mischief and intentional insult contrary to sections 397, 327 and 399 of the Penal Code.
The complainant, Onuh Joseph, of the same address, told the court that since the couple moved into the neighbourhood in 2014, they have been creating trouble with him for no reason.
"Sometimes in 2015, the accused blocked a channel in which water flows out of his compound and diverted the channel to my compound which led to erosion that damaged my property.
"I did not complain because I never wanted trouble, but I spent so much money in repairing my house and the property the erosion destroyed.
"Early this year, I bought a goat which I kept in a cage but it got missing, I reported the matter at the police station and during a search it was found in the accused person's house.
"When he was asked by the police officers why he kept the goat, he told them that he did that in order to see if I can do anything.
"In the presence of the police officers the accused persons and their daughter insulted me and told me that they will make sure they drag me to the gutters or kill me.
"We have been to the police station on so many occasions because of their trouble and threat but that did not stop them.
"I never had problem with them but they always intimidate me and threaten me over nothing," he said.
The couple, however, pleaded not guilty to the charges.
The presiding officer, Ibrahim Shekaru, granted bail to the accused persons in the sum of N100, 000 each with one surety each in like sum.
Shekaru said that the surety must have a reasonable means of livelihood, submit two recent passport photographs and reside within the jurisdiction of the court.
He said the surety must write an undertaking stating that the accused persons would be of good behaviour throughout their trial, and adjourned the matter till Sept. 27 for further hearing.

Load more