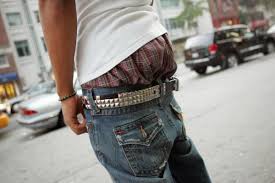 A legal practitioner in Ilorin, Mr. Jude Obi, has blamed parents for indecent dressing that he describes as rampant among ladies across the country.
Obi said this in an interview with the News Agency of Nigeria (NAN) in Ilorin on Saturday, noting that parents were the major cause of the rampant indecent dressing, especially among ladies.
He added that most parents taught their daughters indecent dressing by pampering them right from childhood.
The lawyer noted that most parents would go to the market to buy dresses that were transparent for their daughters to celebrate.
"This had changed the mentality and mode of dressing for many females on the street; the parents are only misleading them.
"That is why many ladies dress indecently when they grow up and then it will be difficult for them to change their method of dressing," he said.
Obi observed that indecent dressing had made many ladies become victims of rape and sexual harassment from men.
He, however, advised parents to check the type of dresses their daughters put on before going to any public event.
He also urged governments to enact laws that would serve as a punishment for anybody caught dressing offensively.
"African society is most known for decent culture but the present generation has diverted from the legacies of our grandmothers and great heroes.
"It is time we stand up together and say no to indecent dressing in our society", he said.

Load more