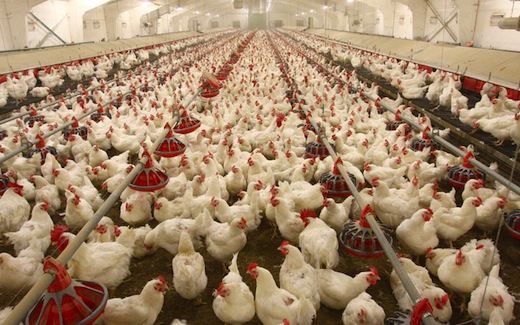 Poultry farmers in Plateau say they record low patronage and experience hike in the price of feeds in recent times.
Mr John Dasar, the Chairman, Poultry Association of Nigeria in the state, spoke to the News Agency of Nigeria (NAN) on Saturday in Jos.
"This period is, indeed, tough for us; the sale is low, while cost of production is high; government must step in to help us," he said.
He attributed the low patronage to the poor purchasing power of most families occasioned by the worsening economic situation nationwide.
He explained that low patronage had also led to an excess in supply of poultry products, particularly eggs, compared to the demand.
"Most farmers cannot cope and have shut down their farms. The price of egg has gone so down that many of us cannot stay afloat.
"A crate of egg, which used to sell for between N800 to N900, is now N600; in contrast, a bag of feeds goes for N2, 600, which is two times its price in February.
"When you do the mathematics, you will see that farmers are running at a huge loss because they are not making corresponding profit," he said.
The chairman noted that the closure of farms was a serious threat to the economy as those hitherto employed as farm attendants would automatically be disengaged.
"We always feel that we are being neglected; nobody gives us any subsidy; in most countries, agriculture is usually subsidised to enable the sector to produce enough food to feed the nation and improve the economic profile of the country.
"Farmers, who grow maize, rice, tomato or even potato, sometimes get support in terms of subsidy in fertiliser, seeds and other incentives, but none comes to the poultry farmers.
"For instance, 130 poultry farmers in Plateau affected by bird flu in 2015 and 2016 have not been paid compensations; this, to me, is not encouraging," he said.
Dasar called on all levels of governments to support the poultry industry so as to improve their internally generated revenue, boost the economy and create more jobs for youths.