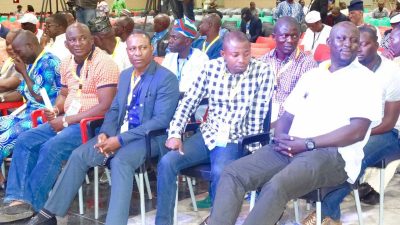 There was a shoot-out on Saturday in Akure as some police men and personnel of the Nigerian Security and Civil Defence Corps (NSCDC) clashed at the venue of the All Progressives Congress (APC) primary election.
Trouble started when some policemen were said to have accused some NSCDC officers of not saluting a Deputy Inspector General of Police, Mr Joshak Habila, who came to monitor the exercise.
Habila was said to have arrived the venue in company with the Assistant Inspector-General of Police in charge of Zone 11, Mr Dan Bature.
The policemen were said to have walked the NSDC officers out of the venue of the election.
A shootout was said to have occurred when attempts were made by the policemen to prevent the State Commandant of NSCDC, Mr Adeyinka Fasiu, from entering the venue.
The shootings led to panic at the venue of the primary election, with aspirants, delegates and journalists fleeing the scene.
It took the quick intervention of other security agents and senior police officers to restore normalcy at the venue of the primary election.
The police spokesman in the state, Mr Femi Joseph, confirmed the incident, saying it was the result of a minor disagreement between some junior officers in the two security agencies, adding that normalcy was promptly restored.