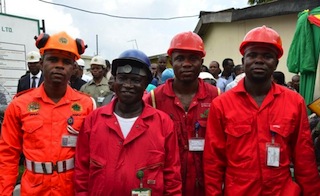 The National Union of Petroleum and Natural Gas Workers (NUPENG) has urged the Federal Government to give adequate protection to oil workers returning from the field to prevent being kidnapped.
The President of NUPENG, Mr Igwe Achese, made the plea on Monday in Lagos.
He condemned the kidnapping of 14 oil workers of Nestoil returning from Egbema-Ohaji field to Port Harcourt, Rivers, by yet-to-be identified kidnappers.
Achese expressed shock at the act and called on security agencies to spread their dragnet to rescue them unhurt.
"The kidnap is one too many as all hands must be on deck to protect the lives of oil workers, especially those working in installations.
"We are, therefore, worried about the attack which has made oil workers endangered species, the NUPENG boss said.
Achese said that the recent kidnapping of the workers would further scare foreign investors that would want to bring in the needed foreign capital and expertise to expand on projects in the sector.
He urged security agencies to intensify efforts to rescue the kidnapped workers alive to rejoin their families with no ransom paid.
The NUPENG chief said that security operatives should also ensure that the culprits are arrested and punished to serve as a deterrent.
He urged the government to address economic downturn to ameliorate the current unemployment in the country.
Achese also advised those involved in the act to retrace their steps and find something meaningful to do.
"It is the duty of the government to reflate the economy, repair dilapidated infrastructure, assist small-scale business enterprises and ensure that restive youths are engage.