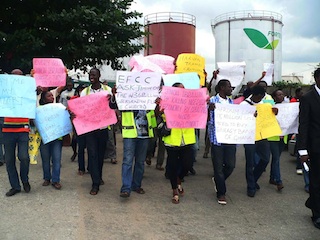 Workers of Irepodun and Oke-Ero Local Government Areas of Kwara on Tuesday protested over unpaid seven months arrears of salaries.
The protesters in Irepodun Council commenced at the Council Secretariat in Omu-Aran at about 9:30 a.m. with the workers carrying placards of different inscriptions and chanting solidarity songs.
The protest was organised by the Nigeria Union of Local Government Employees (NULGE) in the respective councils to demand the immediate payment of their outstanding salary arrears.
Some of the inscriptions on the placard reads are: "We are dying of hunger", "We demand immediate payment of our seven months salary arrears", "Salary delay is Salary denied", among others.
Some officers of Omu-Aran Police Division, Nigeria Security and Civil Defense Corps and the Directorate of the Security Service were seen maintaining law and order.
The NULGE chapter of the councils was said to have received the backing of the state headquarters in Ilorin before embarking on the peaceful protest.
The workers had on two occasions in the year embarked on sit-at-home on the same issue but they were called off following the intervention of some eminent personalities in the state.
A middle-level worker in Irepodun Local Government, who preferred anonymity described the development as "very unfortunate and pathetic".
"The situation has become critical for most of the workers. It is very difficult for us to meet up with our domestic and parental responsibilities," the source said.
Mr Femi Oladipo, Irepodun Local Government NULGE Chairman said the workers were also demanding that the state government should hands off the handling of the local government allocation from the Federation Account.
He said that the workers had in a recent meeting passed a vote of no confidence in the Joint Account Allocation Committee (JAAC) instituted with the responsibility of distributing fund to the 16 councils by the state government.
Speaking on the issue, Alhaji Luqman Owolewa, Irepodun Council Chairman, blamed the backlog of the salaries on the persistent shortfall in the councils' allocation from the Federation Account.
He said that the council heads and the state government under Alhaji Abdulfatah Ahmed were working round the clock to find a lasting solution to the crisis.
"This problem has been on since the last administration due to dwindling allocation to the councils," he said.