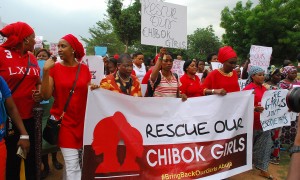 The Nigeria Police Tuesday stormed the Unity Fountain, Abuja, the meeting point of the BringBackOurGirls (BBOG) group to stop them from embarking on their usual protest to the Aso Rock Presidential Villa.
The group has been embarking on a protest march every three days since the Boko Haram sect released its latest video of the girls in Sambisa forest.
One of the police officers, Abiodun Alamatu, told the campaigners at the Fountain that he had orders to stop the protesters from embarking on another march to Aso Rock.
"The way you people are taking this thing is getting out of control," he said.
One of the leaders of the group, Aisha Yesufu, challenged the police, saying they have no right to stop them from embarking on the march.
"If you were the one taken, I will stand stand for you, or is it because you were not taken? If it was your daughter, I will stand for you," Yesufu said.
The FCT police spokesman, Anjuguri Manzah, issued a statement, where he accused the campaigners of disorderliness and creating "unwarranted tension" in the city.
"These indiscriminate actions which are carried out in disorderly and sometime riotous manner create unwarranted tension and apprehension among law abiding citizens and in the process obstruct legitimate business activities.
"The command hereby advises any person or group of persons who wish to embark on any demonstration to notify the Commissioner of Police, FCT, in writing and secure approval."
This is not the first time the group will be stopped by the police while attempting to see President Muhammadu Buhari.