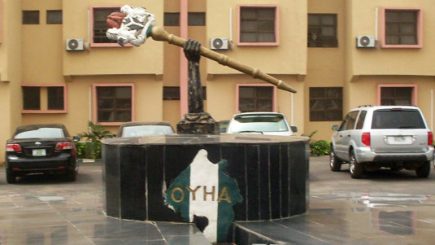 The newly elected member representing Oorelope constituency in the Oyo State House of Assembly, Mr Balogun Lukman, was on Tuesday sworn in.
The house suspended its recess to also commence the process of approving the creation of 35 Local Council Development Areas (LCDAs) in the state.
Balogun had emerged following the Aug. 20 by-election to fill the vacant seat of the late Mr Gideon Aremu who was killed by hoodlums in Ibadan.
The new lawmaker, after swearing to an oath of office administered by the Assembly's Speaker, Hon. Michael Adeyemo, pledged his commitment to the development of his constituency and the state.
"All I believe is that God Almighty, who has given me the opportunity to be sworn in as member of this House of Assembly, will direct me accordingly.
"I will continue from where my predecessor stopped and will contribute my quota positively to the development of my constituency and the state at large," he said.
The assembly also passed the bill for the further amendment of the Local Government Law, 2002, to allow for the creation of 35 local council development areas to the House Committee on Local Government and Chieftaincy Matters.
Mr Ganiyu Oseni of Irepo/Olorunsogo constituency, however, decried the "injustice" in the distribution of LCDAs to zones.
According to him, the allocation of 11 LCDAs to Ibadan zone was unfair when compared to the number allocated to other zones in the state.
Similarly, Mr Muideen Olagunju of Oyo East/Oyo West Constituency drew attention to the dissatisfaction of persons yearning for more LCDAs allocation to their zones.
Mr Fatai Adesina, representing Ibadan South-East 1 Constituency and Gbenga Oyekola of Atiba expressed concerns about the funding of the new LCDAs if the existing 33 local government areas were facing the challenge of paucity of funds.
Adeyemo, however, said that the creation of LCDAs was long overdue considering the geographical size of the state.
The House resolved that the bill be passed to the appropriate committee for further deliberations.