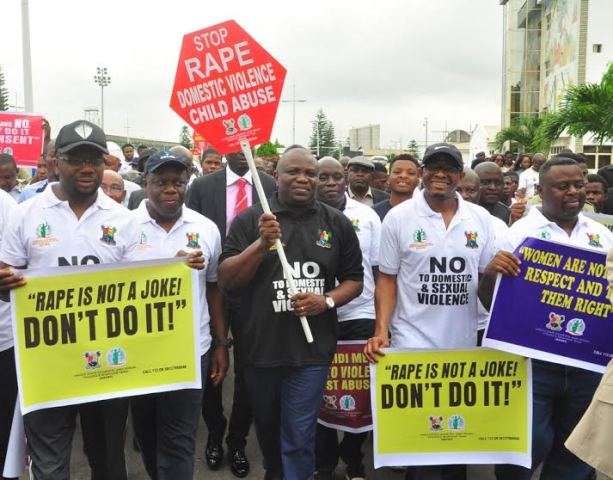 Lagos State Governor, Akinwunmi Ambode on Thursday led the first ever 'All Male Walk' against sexual and gender based violence in Lagos, Southwest Nigeria to sensitise the male folk to halt the bad habit of raping and beating up the female folk.
The walk took place simultaneously in Ikeja and FESTAC. The governor led the all male walk in Ikeja as hundreds of men took part in the walk which was the first in Nigeria.
The walk was organized by the Lagos State Domestic and Sexual Violence Response Team.
"It is time we take the "bull by the horn" in tackling this menace of sexual and gender based violence in our society. Research and countless reports have indicated clearly that women are significantly more prone to being victims of these crimes. There is also an evident trend of suppressing the voice of these victims due to the fact that these acts are perpetrated largely by men," says Ambode in his speech during the walk.
"We should not take for granted the potential exponential effect of having emotionally and psychologically damaged women in a society as the effect could transcend to their children who grow up in an environment, thinking this is the norm.
"Whilst several programmes ranging from the provision of legal aid, shelter and psychological counseling services have been designed to assist these women, the State Government has realized that while these are essential to eradicate sexual and gender-based violence, we must address the violent behavior of men when it comes to Rape, Domestic Violence and Child Abuse," he added.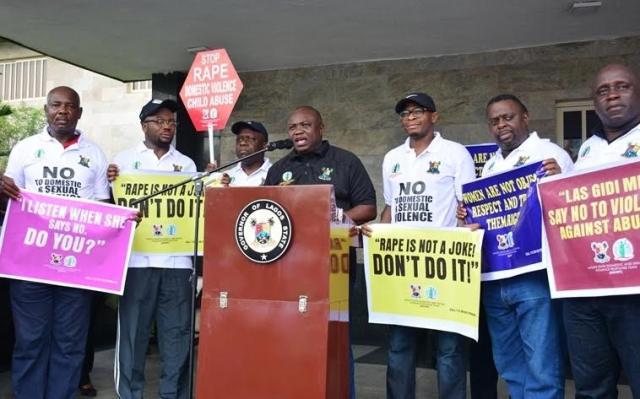 The governor said the scale of men's violence against women was enormous and its effect, demoralizing, stressing that men as grandfathers, fathers, brothers, sons, husbands and public advocates had a pivotal role to play in condemning all forms of violence against women, girls and boys.
"We firmly believe that the way forward is to continuously engage the male folk as well as the community as a whole. Community engagement is an essential part of working to prevent and respond to all forms of gender based violence.
"As men, we must stand up and speak in one voice, condemning these acts. No more would we condone or tolerate pedophiles, women beaters and rapists. It is inhumane and totally unacceptable to protect or even ignore such behaviour when we see it manifesting in our environment," he stated.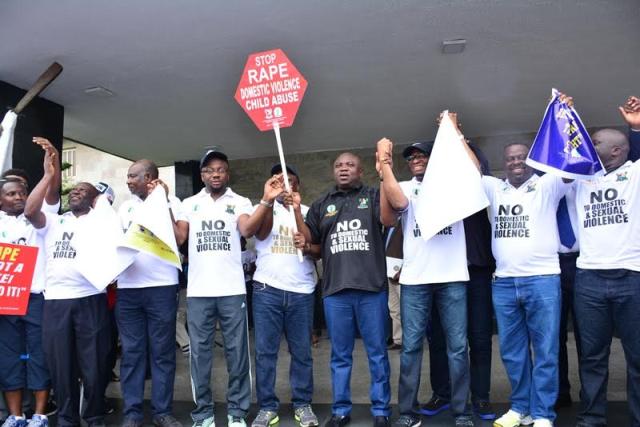 Ambode commended those who participated in the walk and charged them to remain ambassadors and flag bearers in the fight against domestic and sexual violence, adding that the conversation must be sustained in workplaces, religious institutions, residential areas, social media, among others.
He said that "if we all join hands and speak against this, we can truly make Lagos uncomfortable for perpetrators of these heinous crimes. We shall continue to do more to ensure the rights and welfare of the most vulnerable in our communities are adequately protected."
-Kazeem Ugbodaga