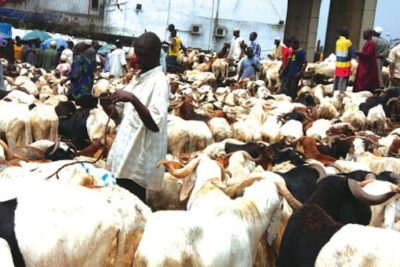 As Muslims prepare to celebrate Eid-El-Kabir on Sept. 12, ram sellers in Jos have been moving with their animals on the streets of the Plateau capital in search of buyers.
Correspondents of the News Agency of Nigeria (NAN) who went round some parts of the city, found youths dragging hordes of rams through various streets, where they haggled over the prices with those that showed interest.
At Beach road in central Jos, the hawkers were seen with five rams, while some dragged eight rams or more, through the crowds and heavy traffic.
The situation was the same in Bukuru, where youths were seen moving round with the rams around communities populated by Muslims.
Some of the ram sellers told NAN that they were forced to look for buyers on the streets because customers were not visiting the usual selling points.
One of the sellers at Tudun-Wada, Akilu Ambali, said "usually, buyers come to us, but this year, they are not showing up.
"Since they are not coming to us, we decided to go round so as to ease people the stress of transport fare.
Ambali said that the ram market was particularly poor this season, adding that "many people say they do not have money; many of those willing to buy want to do so on credit.
"Those with instant payment will get good bargains, but those that collect on credit will normally pay higher."
Another seller, Audu Anchau, said that the ram market was "very poor" his year.
He added that "I am on the streets because people that should come to my shed are not doing so.
"In the past, politicians and other rich people usually come to my shed and will buy as many as 100 or more at the same time, but that is not the case this year.
"There were times that the state government ordered several hundreds of rams, or even ask some people to collect while government pays later, but we have not seen that this year."
Anchau said he was willing to sell on credit "provided I know how I can get my money after the fesivity.
"As you can see, my rams are big; I have been able to sell some by going around, but the market this year is just bad."
On the prices of the rams, he said that the smaller ones could go for N15,000, while some could be sold for as a high as N140,000.
He said he would keep moving through Jos streets with he rams "even on Sallah day".
Malam Alti Ragije, a prospective buyer, told NAN that he was opting to buy from the hawkers because their prices were usually better.
He said "when they get tired of roaming the streets, it is very easy to convince them to sell the rams because they would not want to go home without selling."