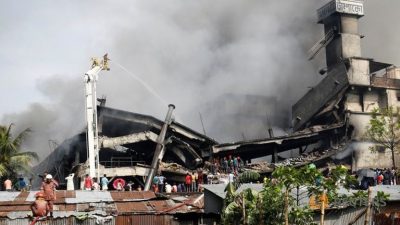 At least 24 workers were killed while scores injured on Saturday in an explosion that triggered a massive fire leading to collapse of a three-storey of a packaging factory in Bangladesh.
Officials said the incident happened in the Tampaco Foils Ltd at Tongi on the outskirts of Bangladesh capital Dhaka on Saturday at about 6:00 a.m. ( local time).
Officials said that Bangladesh fire fighters, after hectic efforts of eight hours, managed to put out the blaze, which was spreading to other adjacent buildings at around 3p.m. local time.
They said the fire triggered by the blast spread quickly because flammable chemicals were stored at the factory building which collapsed like a sandwich just in several minutes.
It is the biggest industrial disaster since 2013 when the Rana Plaza building collapsed.
"We've also come to know that at least 24 people were killed in the devastating fire caused by a boiler explosion," a Tongi police official said.
Scores of the injured people were rushed to different hospitals in Dhaka and Tongi where many were said to be in critical condition.
The official who would not like to be named said the death toll may go up as many people have sustained critical injuries.
Nearly 70 people were injured in the fire triggered by explosion, said the official.
The Bangladesh authorities have already formed a five-member investigation committee which will submit its report in 15 working days.
A worker, who survived the tragedy, said many of them were inside the factory during the explosion because that was the time for morning shift workers to take the charges from their night shift colleagues.
Bangladeshi State Minister for Labour and Employment Mujibul Haque Chunnu said families of those killed in the explosion will get 200,000 taka each as compensation.
The tragedy once again revived questions about the commitments of the sector insiders to providing safe working conditions for the workers in the largest export sector in Bangladesh.
The sector comprises about 5,000 factories employing more than 4 million workers, 80 per cent of whom are women.